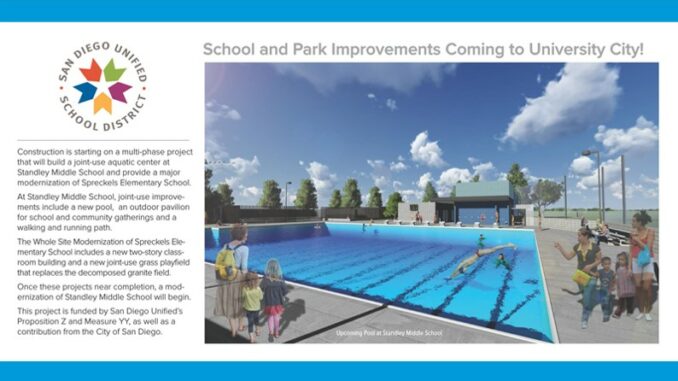 From John Lee Evans, San Diego School Board President: Standley Park will have the official groundbreaking of the Imagine UC 2020 project in a modified, social distancing format, on Wednesday, October 7 at Standley Park. This groundbreaking ceremony for this important Joint use project will be attended by school district and city officials. This project has been in the making since 2014 with a dedicated local steering committee consisting of Barry Bernstein, Sandy Lippe, Greg Zinser and me.
The final approval of the construction contract was approved at the school board meeting on September 8, 2020 and construction fence is being installed this week; construction will begin this fall. The Imagine UC 2020 joint use project construction bid has been combined with the whole site modernization of Spreckels Elementary.
The Imagine UC 2020 project envisions the public area between Standley Middle School and Spreckels Elementary as the central community gathering space. It includes a competitive swimming pool alongside the existing pool, a stage/pavilion for school and community performances, a jogging path around the perimeter of the park and an added grass field at Spreckels Elementary, which will be part of the park when school is not in session.
At Spreckels there will be an expanded parking area at the front of the school for safer drop off of students. This will be done by moving some playground equipment to another part of the campus. The existing classrooms, office and library will be remodeled, including having glass replace some of the concrete walls. There will be a new two story classroom building at the rear of the campus. All of this has been planned with input from the school community, as well as neighbors.
Many projects have been completed at UC High and future projects will be done at Standley Middle School, Curie Elementary and Doyle Elementary. These projects are a result of Propositions S and Z, approved by the taxpayers of the San Diego Unified School District.
---
For related news, visit https://www.universitycitynews.org/category/imagine-uc-2020/
For history of the Imagine UC 2020 project, visit https://www.universitycitynews.org/imagine-uc-2020-sdusd-school-facilities-project/