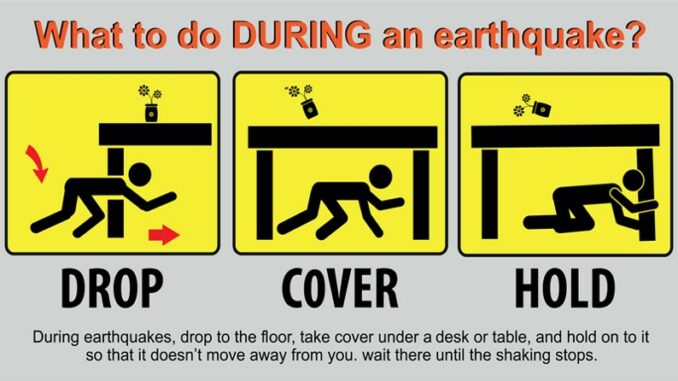 It's time to practice what to do during an earthquake. From the County News Center: The pandemic has many of us working or studying from home, so an earthquake preparedness drill could look very different this year. If you have a plan, disaster supplies and you practice an earthquake drill with your family, your chances of surviving will greatly improve. Earthquake preparedness is important because in a significant earthquake, people are more likely to be injured from falling debris than the shaking itself.
If indoors, the safest thing to do is to Drop to the ground in a safe area and seek protection under a sturdy table or desk, if one is available. Once under the table, tuck your legs into your chest. Cover your head with one arm, and use your other arm to Hold on to the furniture leg in case the shaking causes the furniture to move.
If outdoors, try to move to an open area where nothing can fall on you. Then sit, pull your legs into your chest and protect your head using your hands. Outdoor hazards include tree branches, stone masonry on buildings and overhead electrical lines.
Register to participate in the Great ShakeOut earthquake drill on Thursday, October 15 at 10:15 a.m. It takes as little as 90 seconds and can be customized to fit your schedule. You can practice the drill before October 15 or in the days after at any time, just so long as you take the time to learn and practice what to do during major shaking.
To register and for earthquake preparedness tips, visit the County News Center at https://www.countynewscenter.com/register-for-great-shakeout-earthquake-drill/