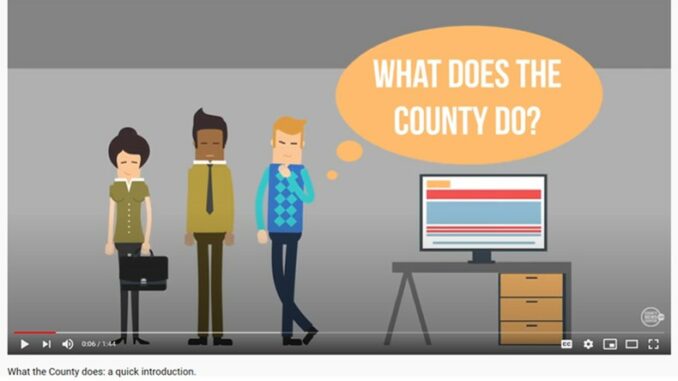 The County Board of Supervisors has three seats up for election this November. Not sure exactly what the County does? Here's a basic overview in less than two minutes courtesy of the County News Center. Transcription of Closed Captioning provided courtesy of UCCA: The County of San Diego has 18 cities and a large unincorporated area. Some of what the county government does covers the whole region. Some covers just that unincorporated area. In the unincorporated area, the county does things the city government would do. Parks and libraries. Build and maintain roads. Oversee zoning and building. The sheriff's department is the police force. Fire authority provides fire and paramedic service. [Video transcript continues below video.]
[Video transcript continued.] Then there are things we do for the entire region. In the justice system we have prosecutors, public defenders and probation. We offer mental health and substance abuse services. Help people experiencing homelessness get housing. Connect people with public assistance and provide many other social services.
We investigate and guard against disease outbreaks, manage our disaster response and we inspect or monitor all kinds of things to protect your health and wallet. That includes restaurants, air quality, nurseries, gas stations, price scanners, just to name a few. We also run elections. In a few cases, cities pay us to provide certain services for them, like having our sheriff's department serve as their police or operating their library.
Much of this is overseen by a board of supervisors. They are elected by people in their districts. The districts together cover the whole county.
There are four elected officials: the district Attorney, the sheriff, and assessor-recorder-clerk who sets property values and keeps records of property, marriages and births, and the treasurer tax collector who takes in property taxes.
That's just scratching the surface, but you can see that the county touches every San Diego's life in some way and every San Diego voter has a say in who runs the county. [Transcription of Closed Captioning provided courtesy of UCCA.]
For more information, visit the County's website at https://www.sandiegocounty.gov/
---
For related posts from UCCA, visit https://www.universitycitynews.org/category/district-3/