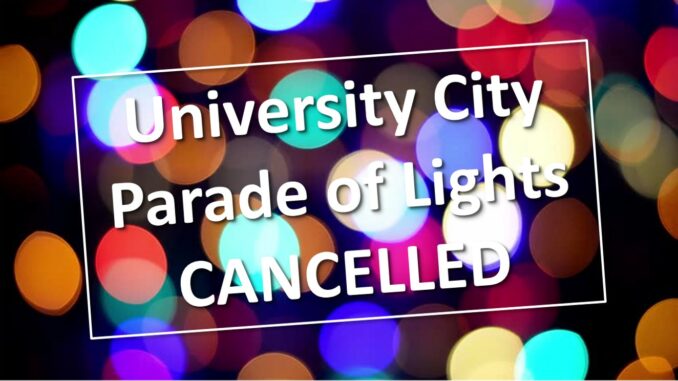 From UCCA President Barry Bernstein: The drive-through "Parade of Lights" (which was featured on the cover of our December print newsletter) has been cancelled. The current pronouncements related to the serious COVID-19 impact upon our communities, made by California Governor Gavin Newsom, highlighted the necessity to put the health and welfare ahead of non-essential out of home activities.
UCCA and our event planning committee, in coordination and agreement with Standley Park community organizations (the University City Parks Council and the Standley Park Community Recreation Group), have agreed to cancel the planned December 11th and 12th Drive-Through "Parade of Lights".
It is with much regret that we announce this cancellation of our special holiday event.
For the holidays it is my hope and wish that we will encourage understanding and reflect on the meaning and joy of the season….and that being able to be together as a community will soon become a reality.
Merry Christmas, Happy Hanukkah, and a festive, thoughtful Kwanzaa! Be safe and be well.
Please note: UCCA's next regular meeting, via Zoom, is scheduled for Wednesday, January 13 at 6:00 p.m. Don't forget to send in your 2021 UCCA membership application, (page 13 of our Dec./Jan. newsletter); read and download the print newsletter at https://www.universitycitynews.org/ucca-newsletter-archives/
---
For more information about the Stay at Home order, visit https://www.universitycitynews.org/2020/12/06/san-diego-stay-at-home-whats-going-into-effect-and-when/
For related posts, visit https://www.universitycitynews.org/category/events/