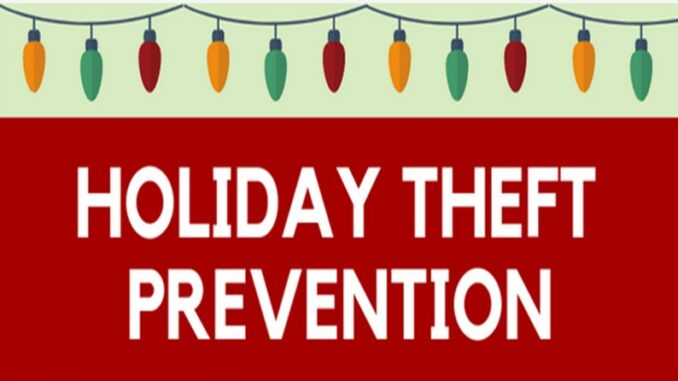 From University City's Neighborhood Watch Coordinator Barbara Gellman: Here are some reminders to stay alert, prevent thefts, and enjoy whatever goodness comes to you during this season.
Car Thefts and Break-ins: It is reported that car thefts and car break ins are increasing due to the unstable financial situation, lock downs and unemployment, just to name a few. Here are some suggestions to prevent crimes of opportunity.
Leave nothing of value visible in your car and lock it up and park in the garage or driveway if at all possible.
Do not leave wires hanging out of chargers or your garage door opener in the car either.
If at a mall or parking garage, try to park where there is light and not between 2 vans or trucks.
Be observant when you walk out of the house; do you see something suspicious, abnormal?
Alert your neighbor if you see a stranger checking out their car.
Package Thefts: Since online shopping is on the rise, we see more deliveries to homes on our streets and that creates an opportunity for the bad guys to do "shopping" without going to a store or paying for the item. Ask the drivers who deliver to please ring your doorbell when they drop off the package so if home, you can bring it in right away; if not home ask a neighbor to hide it for you or bring into their home. Many delivery agents will email you when it will be delivered so write it down and post on your front door as a reminder.
Home Break-ins: Casing is when one or more strangers walk or drive up and down a street slowly looking for cars/homes that look like easy targets. Perhaps there are several flyers, newspapers lying in the driveway or children's bikes or other toys left outside unattended or a garage door open for a period of time and they can see everything inside that looks good to them to sell. Consider asking neighbors to pick up papers for you. Make sure you set inside timers along with outside lights. Never post dates of when you will be away, even to friends; hackers can use that information to "visit" your home while away.
Make your home look lived in. Consider closing blinds or drapes a little so strangers can't see what is inside and especially if not at home. It also helps if your property looks like you care and that includes rental properties.
Identity Theft: Keeping your identity secure by not posting personal information on any site nor on any surveys. It is best to avoid surveys anyway, they sell the information to other people/companies and in the wrong hands can increase your chances of "scams".
The police suggest marking your valuables such as computers, laptops, TV's, bikes, etc. with identification numbers so they can be tracked.
Avoid clipping mail to the outside of your mailbox in hopes that the mailman will secure it; any stranger walking by can take it and use it criminally if it has any of your personal information enclosed; it is always safer to mail at the post office or a secured mailbox. When dropping into the box, be sure you push it down and try to do so before the scheduled pick up times, avoid night times when no one is around.
Take care of yourself: Lastly, try to do something that makes you feel good such as when cooking or baking, share it with a neighbor, it will create positive vibes for both of you and we can use lots of those. Stay alert and enjoy whatever goodness comes to you during this season.
---
For related posts, visit https://www.universitycitynews.org/category/neighborhood-watch/
If you'd like to start a Neighborhood Watch group on your street, visit https://www.universitycitynews.org/neighborhood-watch/