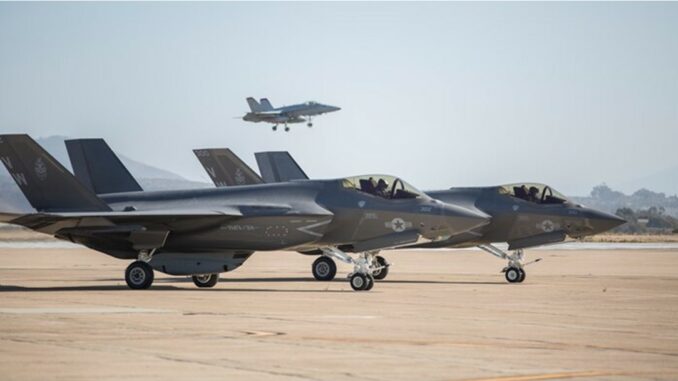 Update 02/16/2021: 3rd MAW grows as an integrated all-domain naval power. Phase two of Winter Fury 21 will commence February 16 and will employ all of the aircraft in the 3rd MAW inventory, to include F-35 Joint Strike Fighters, AH-1Z Vipers, UH-1Y Venoms, F/A-18 Hornets, CH-53E Super Stallions, MV-22B Ospreys, and KC-130J Hercules aircraft. For the complete news release, visit https://www.3rdmaw.marines.mil/News/Article/2504808/3rd-maw-grows-as-an-integrated-all-domain-naval-power/
---
From MCAS Miramar 3rd Marine Aircraft Wing (3rd MAW): Marines with 3rd Marine Aircraft Wing (MAW), 1st Marine Division (MARDIV) and 1st Marine Logistics Group (MLG) are preparing to commence a large-scale distributed exercise known as Winter Fury 21. The exercise will be conducted from January 19 to February 19, 2021 and will take place at training locations across Southern California, Arizona, and surrounding coastal islands. 
Winter Fury highlights 3rd MAW's ability to fight a near-peer adversary by employing all of the aircraft in its inventory, to include F-35 Lightning II, AH-1Z Viper, UH-1Y Venom, F/A-18 Hornet, CH-53E Super Stallion, MV-22B Osprey, and KC-130J Super Hercules. 3rd MAW continues to "Fix, Fly, and Fight" as the Marine Corps' largest aircraft wing and remains combat-ready, deployable on short notice, and lethal when called into action.
For more information, visit https://www.3rdmaw.marines.mil/News/Press-Release-View/Article/2474489/winter-is-coming-3rd-marine-aircraft-wing-prepare-for-winter-fury/
Attached photo by Lance Cpl. Juan Anaya available at https://www.3rdmaw.marines.mil/Photos/igphoto/2002544676/
---
Flight Trackers – Now that many military aircraft are equipped with ADS-B (Automatic Dependent Surveillance-Broadcast) technology, many (but not all) show up on Flight Trackers. Here are two that are operational in San Diego:
OpenADSB at https://apps.apple.com/us/app/openadsb/id1178703539 is a full featured high performance aircraft tracker display app for iOS that connects to a variety of backend air traffic sources that provides some flight data for aircraft activity in and out of MCAS Miramar.
ADS-B Exchange at https://tar1090.adsbexchange.com/ provides some flight data for aircraft activity in and out of MCAS Miramar. ADSBexchange.com is the worlds largest co-op of ADS-B/Mode S/MLAT feeders, and the world's largest public source of unfiltered flight data.
---
For related posts from UCCA, visit https://www.universitycitynews.org/category/miramar/