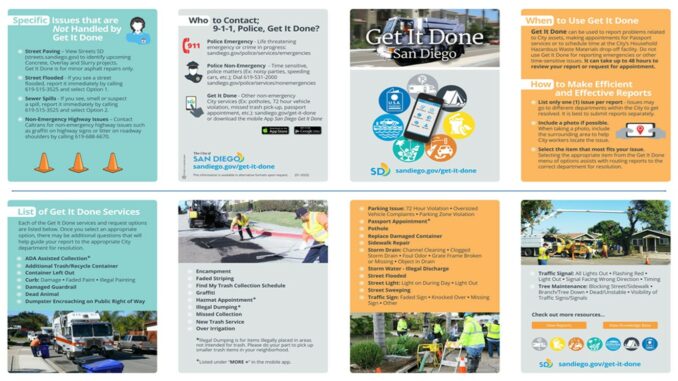 There are very windy conditions in University City and throughout San Diego today and conditions are predicted to continue through the afternoon. Maintain situational awareness and check with the weather service. Keep your mobile devices charged in case of loss of electricity.*
Did you know that you can report downed trees through Get it Done? Of course, in an emergency call 9-1-1. The Get It Done San Diego is the official app for reporting non-emergency problems to the City of San Diego. You can report problems such as trees down and/or blocking the street or sidewalk and connect directly to the City's work tracking system. If possible, take a photo and upload it from home or while still nearby. Get It Done will automatically update the problem report with information about where the photo was taken. Please download the app at https://www.sandiego.gov/get-it-done. The app is available in both a desktop and mobile version.
*To report downed power lines, contact SDGE at https://www.sdge.com/residential/customer-service/outage-center/outage-map. For urgent street-related issues, dial 619-527-7500; for Police Non-Emergencies, dial 619-531-2000; for all emergencies, dial 9-1-1.
Using the Get It Done application, City of San Diego residents may report problems and request services in many categories, including:
Trees & Vegetation

Blocking street/sidewalk
Branch/tree down
Dead/unstable
Visibility of traffic signs/signals

Stormwater & Drains

Illegal Discharge
Over Irrigation
Storm Drain
Street Flooded

Streets, Sidewalks & Lights

All Lights Out
Curb
Damaged Guardrail
Encampment
Faded Striping
Flashing Red
Light on During the Day
Light Out
Pothole
Scooter Issue
Sidewalk Repair
Signal Facing Wrong Direction
Street Light
Street Sweeping
Timing
Traffic Sign
Traffic Signal
Walk Signal Push Button Upgrade
Other street, sidewalk, and light related issue
For urgent street-related issues, dial 619-527-7500
For Police Non-Emergencies, dial 619-531-2000
For emergencies, dial 9-1-1

Parking & Vehicle Related Issues

72 Hour Vehicle Violation
Oversized Vehicles
Zone Issue

Trash Collection, Recycling & Graffiti

ADA Assisted Collection
Additional Container
Container Left Out
Dead Animal
Dumpster Encroaching on Public Right of Way
Encampment
Graffiti
Hazmat Appointment
Illegal Dumping
Missed Collection. NOTE: Before reporting a missed collection, check the Collection Status to see if there was a delay in your area
New Trash Service
Replace Damaged Container
Trash Collection Services

Passport Services
Encampment