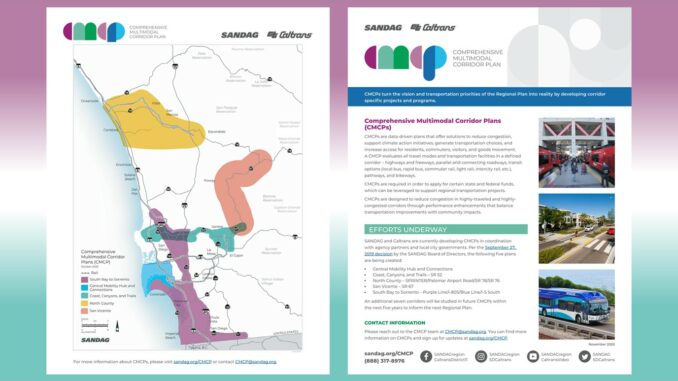 From SANDAG: The *South Bay to Sorrento (SB2S) Comprehensive Multimodal Corridor Plan (CMCP)* will study ways to improve transportation safety, increase travel choices, and improve mobility. The 28-mile SB2S corridor is one of the most congested and heavily used corridors in San Diego County. The study area includes the cities of San Diego, Chula Vista, Coronado, National City, and Imperial Beach.
Major transportation facilities that pass through the SB2S study area include Interstate 5, Interstate 8, Interstate 805, State Route 52, State Route 54, State Route 94, State Route 905, major arterials and the Bayshore Bikeway. Existing transit services include the COASTER, the Trolley, multiple Rapid lines, and more than 25 local bus lines.
The SB2S CMCP aims to guide development of an innovative transportation network, transforming the way people and goods move through the San Diego region. The CMCP evaluates all travel modes and transportation facilities in a defined corridor – highways and freeways, parallel and connecting roadways, transit (bus, bus rapid transit, light rail, intercity rail, etc.), pathways, and bikeways. Learn more about CMCPs and how you can get involved at sandag.org/CMCP
Efforts Underway: The SB2S CMCP project team aims to define how the corridor is currently performing and examine why it is performing this way. With this analysis, the project team will recommend projects and strategies that integrate active transportation, transit services, and the deployment of technology to better manage traffic and incident management needs throughout the SB2S planning area.
Zoom meeting Thursday, January 28: Join us for a virtual public meeting on Thursday, January 28, 2021, 6-7:30 p.m. View Meeting Invitation (English/Spanish). Use the following link to join on Zoom: https://us02web.zoom.us/j/84300170028
Telephone: (669) 900-6833
Webinar ID: 843 0017 0028
More Information: For more information on current efforts and ways to get involved, visit our virtual engagement hub, sign up for project updates, or email the project team at cmcp@sandag.org.
About Comprehensive Multimodal Corridor Plans: CMCPs are data-driven plans to reduce congestion and generate transportation choices while preserving community character and creating opportunities for enhancement projects. CMCPs include all travel modes in a defined corridor – roadways, public transit, bikeways, and more. CMCPs are the implementation blueprints that take the transportation vision of the 2021 Regional Plan and explore the programs and projects that can be developed to make it a reality.
---
For related posts in this category, visit https://www.universitycitynews.org/category/transportation