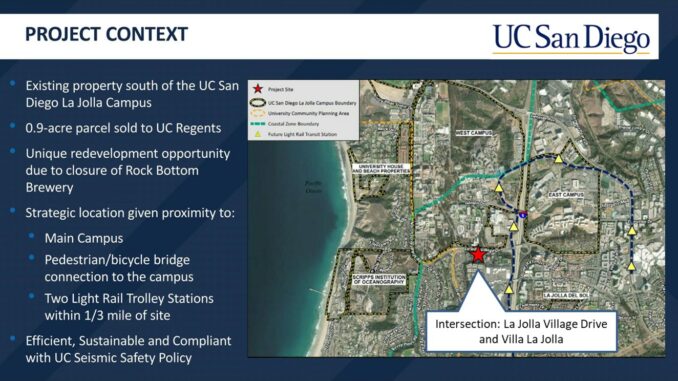 From UC San Diego: The La Jolla Innovation Center (LJIC) is planned as a new, state-of-the-art facility that will house several programs from UC San Diego Health, UC San Diego School of Medicine, and UC San Diego Extension serving students, patients and the larger community. It will include approximately 110,000 square feet of office and educational space, a ground-floor café accessible to the public and approximately 275 parking spaces.
Background: At the January 2021 University Community Planning Group (UCPG) meeting, UC San Diego presented an information item on its La Jolla Innovation Center project located south of the campus at the intersection of La Jolla Village Drive and Villa La Jolla, southwest corner. The old Rock Bottom Restaurant will be demolished and replaced by a medical/office building with 7 above grade floors, two below grade floors, 4 total floors of parking. Building height is approximately 100'. The University of California Regents has purchased the 0.9 acre site and will lease back the property for construction and occupation. It is not subject to the City Prop D Coastal Zone height limit of 30'. The building will house UC San Diego Extension (3 ½ floors) and UC San Diego Neurology now currently located in the offices to the west of the proposed building.
Draft Environmental Impact Report: In accordance with the California Environmental Quality Act (CEQA), UC San Diego completed a Draft Environmental Impact Report (EIR) for the proposed LJIC Project. The Draft EIR will circulate for a 45-day public review period from February 5 through March 22, 2021.  During this time, agencies and the general public are invited to review and provide comments on the adequacy of the Draft EIR.
Notice of Public Meeting: An online public hearing on the Draft EIR will be held at 6 PM on Thursday, February 25, 2021. Comments on the Draft EIR from interested persons or groups will be accepted at the hearing for entry into the administrative record.
Project details: Draft EIR, meeting registration, and other information is available on the UC San Diego website at https://blink.ucsd.edu/facilities/real-estate/ljic.html
Related posts:  https://www.universitycitynews.org/category/ucsd/