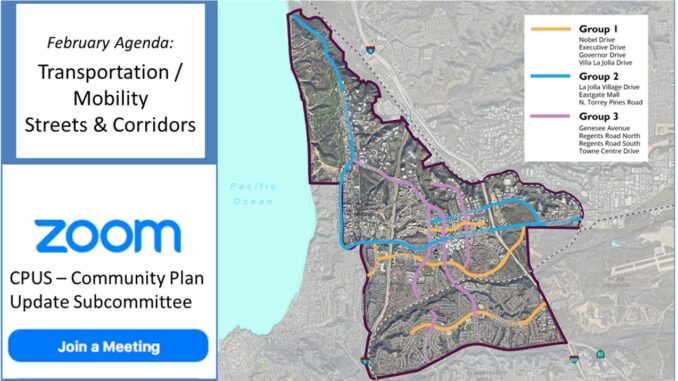 From University City Planner Katie Witherspoon: You are invited to join the City of San Diego Planning Department for a live webinar for the University Community Plan Update on Tuesday, February 16th from 5:30 to 8:30 PM. During this month's meeting we will discuss Mobility Goals and draft Mobility Corridor Concept Planning Sheets. We will be utilizing breakout groups for this discussion.
February 2021 Registration: Please note that two separate registrations are required to fully participate in this month's webinar:
Zoom Webinar: You must register in advance if you wish to attend in any capacity, including viewing, listening, and possibly speaking.
Breakout Group: The Project Team will lead attendees through a breakout room discussion of one of three mobility corridors (refer to attached diagram at the end of this post).
Agenda: https://www.sandiego.gov/sites/default/files/ucpus_final_agenda_02.16.2021.pdf
Information: For more information, visit CPUS website https://www.planuniversity.org/ or contact Katie Witherspoon, AICP at KatieW@SanDiego.gov
Background: Draft Mobility Goals (from March 2020 Mobility Vision Presentation) available on YouTube at https://www.youtube.com/watch?v=_fFr61mCsEM&feature=youtu.be
A connected and integrated transportation network that puts people first and expands personal mobility to schools, residences, activity centers and employment hubs within the community and throughout the region.
A balanced, multimodal transportation network that prioritizes safe, accessible, sustainable and attractive travel options for all users.
Enhanced access to public transit, linkages to community and regional activity centers, and opportunities to increase transit ridership.
A mobility system that embraces emerging technologies, smart infrastructure, and is aimed at improving mobility options and efficiency of the transportation system.
---
Related Posts: For related posts from UCCA, visit https://www.universitycitynews.org/category/ucpu/