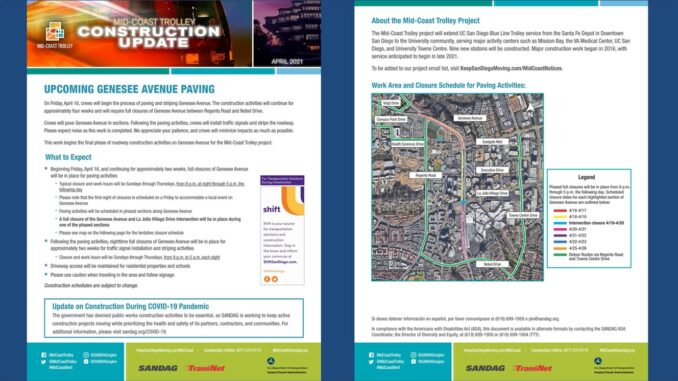 From Keep San Diego Moving, a Mid-Coast Trolley project construction notice of Full Closures of Genesee Avenue: On Friday, April 16, crews will begin asphalt demolition, paving, striping, and traffic signal installations on Genesee Avenue. This work begins the final phase of roadway construction activities on Genesee Avenue for the Mid-Coast Trolley project.
Work will continue for approximately four weeks and will require full closures of Genesee Avenue between Regents Road and Nobel Drive. Crews will work in sections, and the full closures will be phased. For the first two weeks, work and closure hours will be from 8 p.m. through 5 p.m. the following day, Sundays through Thursdays.
Please note that the first night of work has been scheduled on a Friday to accommodate a local event. Residential and school driveway access will be maintained. Please expect noise as this work is completed and use caution when traveling near the work area.
More information at: https://www.keepsandiegomoving.com/Mid-coast/midcoast-notices.aspx
PDF version available at: https://www.keepsandiegomoving.com/Libraries/Midcoast-doc/MCTC_Genesee_Ave_Full_Closures_4-13-2021_FINAL.sflb.ashx
Related posts from UCCA available at: https://www.universitycitynews.org/category/transportation/