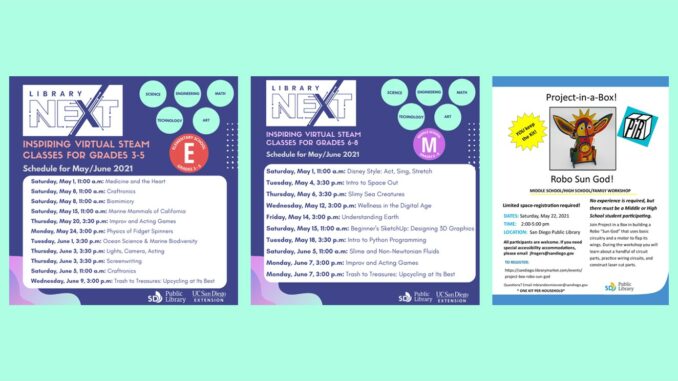 San Diego Public Library News and Events from University Community Branch Library Manager Melissa Martin: To find out the most current information about these programs and other events at the San Diego Public Library, follow us on Facebook or check our website: www.sandiego.gov/public-library.
We are so glad to finally see our neighbors face-to-face at the 12 libraries that have opened for limited in-person services. If you want to try it out, the nearest libraries are the La Jolla/Riford Library, Carmel Valley Library and Mira Mesa Library. At the University Community Library, 4155 Governor Drive, we continue to provide contactless pickup service, but look forward to the day when we can open for basic services. In the meantime, check out the programs highlighted below.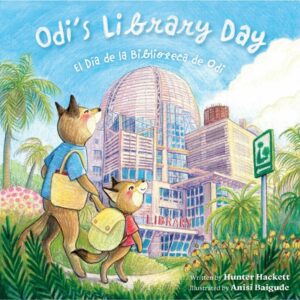 Introducing: Odi's Library Day, a bilingual board book perfect for parents and their emerging little readers to build a lifelong connection to libraries and books. In the story, Odi the Coyote visits Central Library for the first time with their parent. Learn how Odi got his very special name, check out the time lapse video of the creation of the cover art for this book and find out more about its creators! https://www.sandiego.gov/sdplodi
How Odi was born: In 2014, after teaming up in a UCSD Extension art class, Hunter and Anisi took a draft of their first children's book to their local library, where they met Youth Services Librarian Emily Derry! In January 2020, opportunity knocked when Emily came up with the idea for a book published by the library. Anisi was given free rein for the design and creation of the board book. Meanwhile, an adorable coyote family made their home near the nature trail next to Hunter and Anisi's apartment, and Odi the Coyote was born! This book is available for checkout from the library in English and Spanish, or can be purchased from the Library Shop http://libraryshopsd.org/odi
Star Wars Day: Tuesday, May 4th: May the Fourth be with You! Check in at the Library's SDPL Virtual Hub on Facebook to do fun space crafts, learn how to draw your favorite Star Wars characters, see how to make the blue milk that Luke Skywalker drank and other cantina beverages, and more! Some libraries will have crafts to give away, like paper bag Baby Yoda or 3D-printed X-Wing model plane kits (while supplies last). Come in costume if you wish! Activities are pre-recorded – pick up a craft then join and watch at home from the Library's Virtual Hub Facebook group (https://www.facebook.com/groups/sdplvirtual). Videos will stay up after the event ends so you can view them later.
6th Annual How-To Festival: Saturday, May 22, 11:00 a.m.: Learn something new at the How-To Festival! The H2F is an interactive, experiential learning extravaganza with something for everyone and for all ages. This year, on Saturday, May 22, the H2F will kick off with a livestream selection of how-to demonstrations along with the simultaneous release of all the pre-recorded how-to videos on the Library's YouTube channel.
Watch as community members and library staff share their creative skills, many of which were honed over the last year in quarantine! Here's a little sneak peek at this year's lineup… Draw Baby Yoda; Identify the Fear Behind Grief; Spread Kindness by Baking and Sharing a Loaf of Bread; Make Halo Halo; Home Exchange; Draw Graffiti in 3D; Paint Rocks; Find Your Kibbe Body Type and so much more. We hope that you'll tune in to celebrate learning with us!
Want to view or find out more about the How-To Festival? View this year's Festival on the San Diego Public Library's YouTube channel or watch last year's 2020 How-To Festival program line-up at: www.sandiego.gov/howtofestival. Videos will stay up after the 2021 event ends so you can view them later. Many thanks to our continuing sponsor, California Coast Credit Union.
LibraryNExT STEM May/June programs for elementary and middle school students (graphics are attached to this email): In collaboration with Sally Ride Science and UC San Diego Extension, students in elementary and middle school can participate in fun and engaging STEM programs for free! To find out more about each program or to register: https://www.sandiego.gov/librarynext Registration opens approximately one month prior to course date. If supplies are needed for a program, you will receive an email directing you to a Contactless Pickup Service https://www.sandiego.gov/public-library/pickup-service  location to pick up your supplies. Zoom links will be emailed out with a reminder email.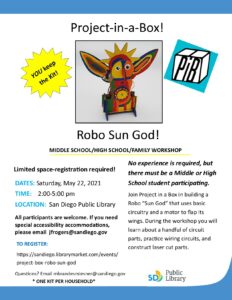 Project in a Box: Robo Sun God! Saturday, May 22, 2:00 p.m. – 5:00 p.m.: If you are an alumni of UCSD, you might remember walking across campus and seeing the Sun God in all its glory. If you currently have a middle or high school student, you can join them and sign up for Project in a Box to build your very own Robo "Sun God" that uses basic circuitry and a motor to flap its wings. During the workshop you will learn about a handful of circuit parts, practice wiring circuits, and construct laser cut parts. All participants are welcome and no experience is necessary, but there must be a middle or high school student participating. Supplies are provided and can be picked up at your local branch library. *ONE KIT PER HOUSEHOLD* If you need special accessibility accommodations, please email jfrogers@sandiego.gov. Limited space-registration required! Questions? Email mbrandesmiesner@sandiego.gov.
For hours of operation and information about San Diego Public Library locations offering Contactless and Limited In-Person Pickup Services: https://www.sandiego.gov/public-library or call the University Community Branch Library at 858-552-1655. 
Courtesy of: Melissa Martin, Branch Manager, University Community Branch Library, City of San Diego San Diego Public Library; T (858) 552-1655; SanDiego.gov