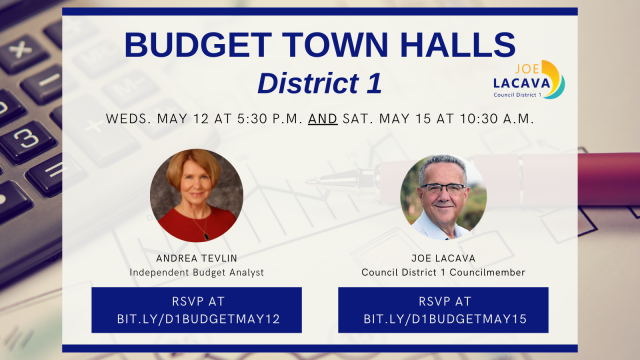 From Councilmember Joe LaCava: With a good budget, San Diego can elevate our quality of life and ensure efficient use of our tax dollars. We can protect and conserve our environment and increase equity and resources in areas in which both are scarce.
A bad budget creates structural deficits and threatens the core neighborhood services that San Diegans need. So what makes a good budget?
Critical Thinking – Understanding and weighing the needs of residents with the restrictions of available funding and required uses;
Research – Reading the proposed budget. Knowing what the employees need to deliver the highest quality service and succeed. Digging into the line items with a sharpened pencil. Learning lessons from the past; thinking about the future;
Community Input – Meeting with and listening to you.
Since I was sworn in December, 2020, my staff and I have received hundreds of calls and emails regarding city services, attended community meetings and webinars, and we've met with constituents and stakeholders.
I invite you to share your neighborhood budget priorities in (virtual) person and attend one of our two upcoming District 1 Budget Town Halls featuring Independent Budget Analyst Andrea Tevlin.
I look forward to hearing your input and working with you to shape a budget that balances the needs of District 1 and our City.
---
For more information, click on the registration link or visit the City Council District 1 website at https://www.sandiego.gov/citycouncil/cd1