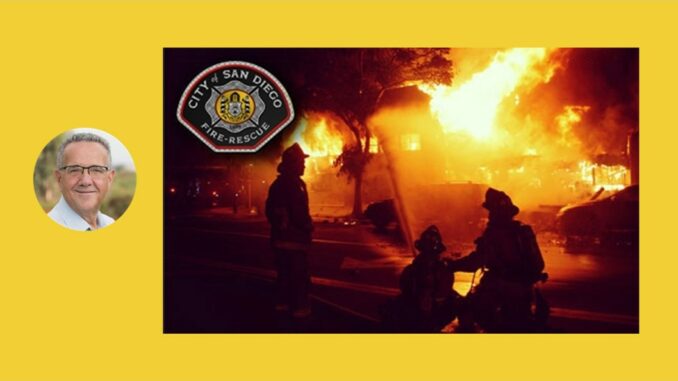 This is an excerpt from an email from District 1 Councilmember Joe LaCava: Friends, San Diego is getting hot and with increased temperature comes a heightened fire risk to our region. While District 1's canyons and open spaces are some of our greatest natural features, they can quickly become a host to a fire emergency. It is essential that residents both practice fire prevention in and around their homes as well as know what to do in the event of an active fire or call for evacuation.
I urge residents take the following steps to proactively prepare themselves and loved ones in the case of a fire or other emergency:
Read and familiarize yourself with SDFD's "Ready, Set, Go!" wildlife fire action guide;
Create a family disaster plan that includes meeting locations and communication plans;
Download 'Ready San Diego SD Emergency App';  the official mobile app managed by the County of San Diego Office of Emergency Services;
Follow 'SDFD Newsworthy Events' (Twitter.com/SDFD_Incidents) on social media for updates on any active fire-rescue incident within the City of San Diego.
Discussing what to do in the case of an evacuation is not meant to scare you, rather it's meant to prepare you. Preparing for an evacuation is a necessary reality for those in wildfire prone areas, including a large portion of District 1. It is my hope that preemptively sharing information will better equip you and your family with the information to safely and efficiently evacuate, should that day come.
Finally, as we face what may be a record-breaking summer, I want to express my sincerest gratitude and respect to San Diego's firefighters. This past year they were not just firefighters and medical responders, they were our COVID-19 vaccination administrators. To all our firefighters, thank you for your tireless devotion to our resident's safety both during fire season and throughout the year.
Yours truly, Councilmember Joe LaCava at  joelacava@sandiego.gov
To receive email updates from Council District 1, complete the Receive Email Updates form at https://www.sandiego.gov/citycouncil/cd1
---
For information about the University City Fire Safe Council, visit https://www.universitycitynews.org/fire-safe-council-university-city/