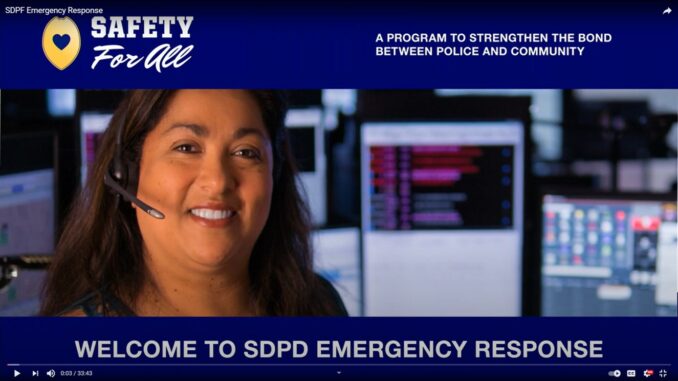 This information was shared with University City's Neighborhood Watch Coordinator, Barbara Gellman, by SDPD Capt. Jerry Hara (Commanding Officer of Communications Division, the Wellness Unit, and the Medical Assistance Unit) in response to questions regarding response time when calling 9-1-1 and the police non-emergency number: 
Here is where we are in regards to the Police Communication Center:
This year, we have surpassed a record breaking 1.4 million calls. Last year was the previous record setting year with 1.3 million.  So, our dispatchers answer more and more calls each year.  This year we answered an extra 100,000 calls. On the 4th of July, we had over 5500 calls into our Comm Center in one day.  Last year it was only 4200 calls.
We have lost many dispatchers to retirement, to other agencies, or they have moved to other cities with family.  We are currently short 22 dispatchers.
During the pandemic, the City's Testing Department was only inviting 10 people a week to test for dispatcher.  So, we could not keep up with attrition.
Since Police substations and City buildings are closed, citizens call us to inquire about their issue (rather than call or visit the station).  Once city and police buildings open, we hope it will drop our call volume.
Here's what we are doing to fix it:
I have worked with City testing Department to invite 38 people to test each week.
I have 3 dispatchers starting next week, and 3 more starting next month.
I have an additional 13 candidates in the background check process. Please tell people we are hiring. 911 dispatchers will be making over $80,000 a year.
Since SDPD dispatchers were paid the lowest in 16 surveyed SD County and San Bernardino County dispatchers, they finally got a 19% raise over 2 years. Now they are middle of the pack regarding pay and we can retain dispatchers.
We have new technology that will handle the hundreds of abandoned 911 calls we get each day. This frees up our 911 dispatcher for real emergencies.
About the non-emergency line 619-531-2000:
I checked the star feature several times and it does work properly on the non-emergency line.   When you call 619-531-2000 and hear a woman's voice, your call is in a phone tree that routes your call.
When you hit star, your call is routed to the non-emergency line and you will hear a male's voice on the line.  This means you are in the queue for the non-emergency line and several dispatchers answer calls in the order they come in.
Depending on time and call volume, wait times vary.  The daily average wait time for the non-emergency line is 4 minutes and 30 seconds.  If you call during prime-time hours when many 911 calls come in, wait times can be longer.
Here is an informative video that sheds a lot of light on SDPD 911 Communications Center and their amazing work:
For more information about the San Diego Police Department, visit https://www.sandiego.gov/police
For information about University City Neighborhood Watch, visit https://www.universitycitynews.org/neighborhood-watch/