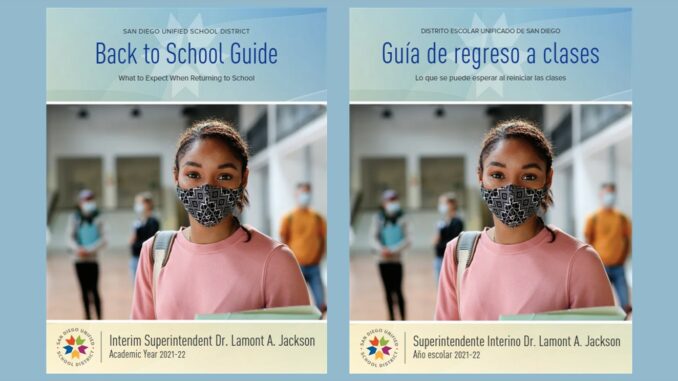 From SDUSD: The 2021-22 school year is here – and it's our biggest investment in students ever! The brand-new Back to School Guide is filled with information for parents, students and educators that highlights this investment. When students return to class on August 30, they will be welcomed by enthusiastic teachers and staff who have been working hard to ensure schools are safe and ready for learning. Take a look to see what to expect when returning to campus this year, what's ahead, and how we can all work together for a safe, successful school year!
The SDUSD Back to School Guide includes resources and up-to-date information for families on the new school year. Please see page 18 in the Back to School Guide for information specifically intended to help prepare your student for a successful school year.
One of the most important things you can do right now is to enroll your student in the District's comprehensive on-site COVID testing program. Getting tested at school may allow students to stay in school – even if another classmate tests positive for Covid-19. The new modified quarantine option allows students to remain in school, so long as they take part in regular testing. Previously, students were required to quarantine alone at home. In short, students can frequently "test in school to stay in school" this year.
---