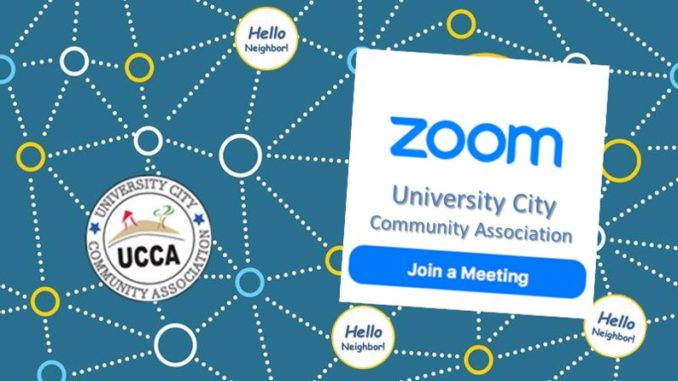 From UCCA president Barry Bernstein: UCCA wishes all in our community a healthy and happy and safe October. Please note our tentative agenda for our October 13, 2021, 6 PM, meeting. This month's special guests include City Planner Katie Witherspoon with information about the Community Plan Update survey; and County Supervisor Terra Lawson-Remer with an update on SD County services, housing, vaccines, and more. If you have an agenda item to suggest or you wish to speak during public forum, please contact us at https://www.universitycitynews.org/contact-us-or-volunteer-in-uc/
The University City Community Association (UCCA) will meet via Zoom on Wednesday, October 13, 2021. The meeting room will be open at 5:45 PM with a prompt start at 6 PM. Click this link to join the meeting on Wednesday at 5:45 PM: https://us02web.zoom.us/j/84641099198
---
UNIVERSITY CITY COMMUNITY ASSOCIATION meets on WEDNESDAY, OCTOBER 13, 2021, at 6:00, via Zoom. Link below.
Preliminary agenda items include:
6:00- WELCOME/MEETING CALLED TO ORDER
SPECIAL ANNOUNCEMENTS
APPROVAL OF SEPTEMBER MINUTES-VOTE
APPROVAL OF MEETING AGENDA – VOTE
6:10- SD POLICE REPORT -OFFICER BOGNUDA
6:15- 6:30- Community Plan… ONLINE COMMUNITY SURVEY
PRESENTER: KATIE WITHERSPOON, Senior City Planner for University City
6:30-7:00- SD COUNTY SUPV. TERRA LAWSON-REMER: COUNTY/CITY COORDINATION/VACCINES, HOUSING, RE-DISTRICTING, AND OTHER TOPICS.
7;00-7;15-PUBLIC FORUM/REQUEST FOR FUNDING
SPRECKELS ELEMENTARY-"Jog-a-thon" – presenters Kristen/Andrea
UCPG SOUTH U.C CANIDATES-INTRODUCTIONS
DEC. CHRISTMAS TREE/MENORAH LIGHTING
OTHER…..
7:30- TREASURER'S REPORT- DON….VOTE
2022 -MEMBERSHIP- HALLIE
OLD/NEW BUSINESS;
MOTION To recognize Diane Ahern/the U.C. Fire/Safe Council
November UCCA Election of Officers—Mack
Other….
7:45- Adjournment. (VOTE) November 10…Election Meeting*.
*Voting planned to be live at our library AND online.