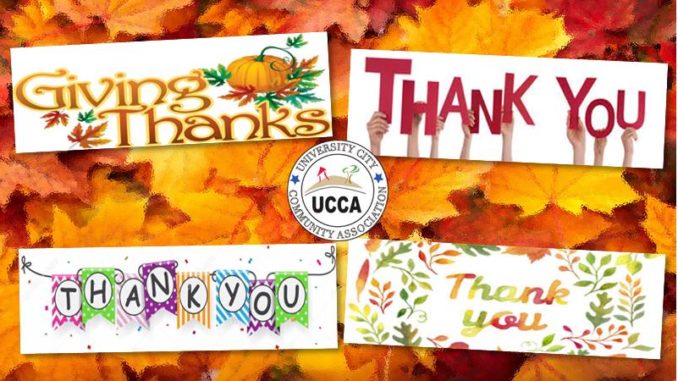 As we look back on 2021, we thank the many UCCA members who, through their membership dues, help support and fund many events and projects that help to make our community more than just a neighborhood. Current projects include monthly community meetings, the print newsletter, street median cleanup, neighborhood watch, street banners, and support for EdUCate and public school events.
As we look forward, we are happy to announce the return of Dinner with Santa and the Holiday Celebration at Standley Park on Friday, December 10, beginning at 5:15 PM. The evening includes Standley Park's Dinner with Santa, arts and crafts activities, new holiday building decorations, entertainment, a Menorah and Christmas Tree lighting, and a visit with Santa. UCCA will post all the details as they become available. The evening is co-sponsored by the Standley Park Community Recreation Group (CRG), the University City Parks Council (UCPC), and University City Community Association (UCCA).
Today we thank the volunteers who give tirelessly to our community through various organizations such as University City Community Association, the Fire Safe Council, Parks Council, Community Foundation, EdUCate, PTAs, UC Cluster, Planning Group, Community Plan Update, Citizens Advocating Safe Aviation, University City News contributors, special events committees, youth sports teams, and newsletter delivery and neighborhood watch volunteers. We also thank our newsletter advertisers who help to make our print newsletter possible.
We appreciate all that you do for University City. Thanks to all; stay safe; stay healthy.
PS: You can join UCCA today and make a committment to keep University City more than just a neighborhood. Please visit https://www.universitycitynews.org/join-ucca-today/