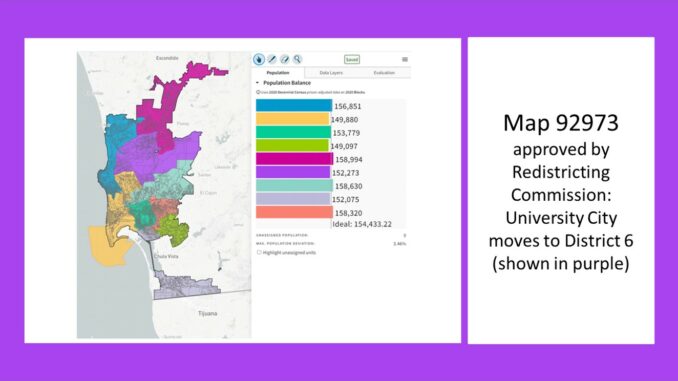 From KPBS published 12/16/2021: San Diego's independent Redistricting Commission on Wednesday finalized a new map of City Council districts that unites some neighborhoods into a single council district, but splits up other neighborhoods into two or more districts. Among the major changes to the map are moving Pacific Beach from District 2 to District 1, moving University City from District 1 to District 6 and splitting Mission Valley between Districts 3, 7 and 9.
The final map approved Wednesday also splits the UC San Diego campus into two districts. The portion west of Interstate-5, which houses mostly undergraduates, remains grouped with La Jolla in District 1. The eastern portion, which houses mostly graduate students, is paired with the more diverse University City and Mira Mesa in District 6.
Listen to the full report, read the transcript, and watch the video from KPBS at https://www.kpbs.org/news/midday-edition/2021/12/16/san-diego-finalizes-new-map-of-city-council-districts
Please note: Maps do not display properly on mobile devices; use a laptop or desktop computer to access.
View the final Map 92973 and supporting documents from the Redistricting Commission at https://www.sandiego.gov/redistricting-commission/meetings