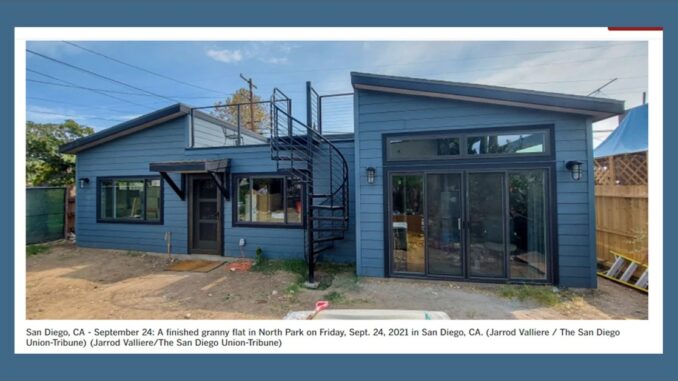 As published by the SD Union Tribune 12/22/2021: San Diego's raging battle over granny-flat regulations is headed for a conclusion this winter that seems likely to leave community leaders and resident groups frustrated. Their goal is preserving community and neighborhood character by rolling back some year-old policy changes that have made San Diego's granny-flat rules among the least restrictive in California.
But the potential for granny flats to help solve the local housing crisis has prompted city planning officials to reject any significant rollbacks. Instead, they are proposing only modest adjustments to regulations governing granny flats, which are also sometimes called casitas or the city's formal name for them: accessory dwelling units.
The modest rollbacks endorsed by the Planning Commission are scheduled for debate in January by the City Council's Land Use and Housing Committee, and then for possible approval in February by the City Council.
That's an excerpt; read the entire report by David Garrick at https://www.sandiegouniontribune.com/news/politics/story/2021-12-22/residents-struggling-with-campaign-to-rein-in-san-diego-granny-flat-construction
Supporting materials (courtesy of UCPG chair Chris Nielsen):