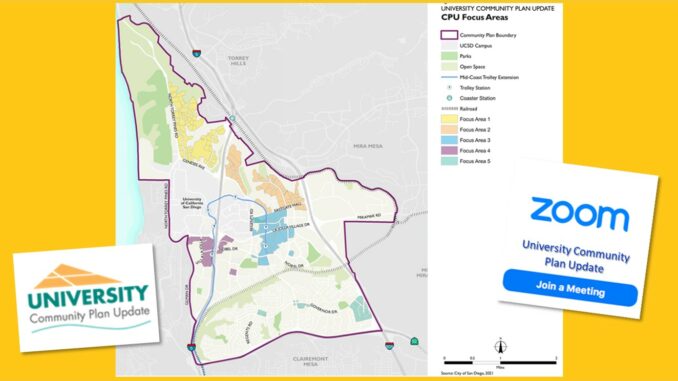 Update 01/18/2022: the JANUARY 18, 2022, UNIVERSITY COMMUNITY PLAN UPDATE SUBCOMMITTEE MEETING has been CANCELLED. Tonight's (January 18) University CPU Subcommittee meeting has been cancelled. The next UCPU Subcommittee meeting will take place on February 15th, 2022 at 6pm. Please reach out to Katie Witherspoon at KatieW@sandiego.gov with any questions.
---
From City Planner Katie Witherspoon: Please join the City of San Diego Planning Department for a live webinar of the University Community Plan Update Subcommittee on Tuesday, January 18th from 6:00 to 8:00pm.  We will be sharing the results from the online engagement platform (survey results)* and presenting the proposed land use scenarios (changes in land use and/or zoning) for the community plan. To view the agenda or register, click the links below or visit www.PlanUniversity.org/meetings. 
Due to the COVID-19 public health emergency, the City of San Diego Planning Department is unable to host a physical meeting in January. Instead, the January UCPUS meeting will be held via Webinar. You must register in advance if you wish to attend in any capacity, including viewing, listening, and possibly speaking. We will be using Zoom software to conduct the meeting.
Save the Date for the February meetings:
*Community Plan update survey (online engagement platform) information available at: https://www.universitycitynews.org/2021/10/01/choose-your-community-please-complete-the-university-city-land-use-options-survey/
Community Plan Focus Areas: Use arrows below slides to move through the five different Focus Areas; click on image to enlarge:[Best_Wordpress_Gallery id="96″ gal_title="Five Focus Areas"]