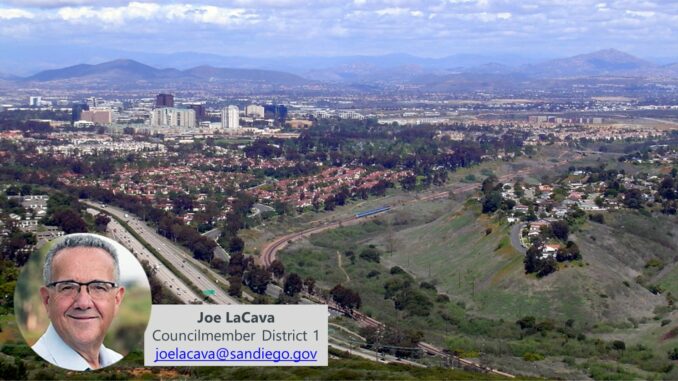 It's Budget Season: Contact Joe La Cava with your Budget Priorities (as summarized by Diane Ahern): Councilmember Joe La Cava (District 1) has released his City and District budget priorities for the fiscal year beginning July 2022 and is seeking input from constituents and residents. According to an open letter to the City Budget Analysist, the Councilmember is looking forward to an open and robust conversation during the Fiscal Year 2023 (FY23) budget process of City needs and priorities.
Neighborhood Improvement priorities for University City include:
Complete design and fully fund first phase of construction for Marcy Neighborhood Park (CIP B19188, Estimated Project Cost $1,546,000, partially funded)
Begin design of the South University City Library improvement and expansion ($500,000)
Three streetlights in Vista La Jolla Subdivision
Construct Coastal Rail Trail (CIP S00951)
Other Budget Priorities for FY23 include:
Investment in City Staff and Improved Recruitment and Retention
New Positions for Critical Public Safety and Operational Needs
Climate Action and Resilient SD
Efforts to Prevent and Address Homelessness
Community Outreach
For more information, visit Councilmember's webpage at sandiego.gov/citycouncil/cd1. Contact Kaitlyn Willoughby, University City Community Representative, at kwilloughby@sandiego.gov.
---
From the office of D1 Councilmember Joe LaCava:
About City Council Redistricting – To keep politics out and community voices in, I could not participate as an elected official in the redistricting process. I did however listen.  I heard the housing concerns of UCSD students. I heard the importance of helping UCSD and the surrounding businesses thrive through economic development and meeting infrastructure challenges. I heard the importance of protecting open spaces. I heard the need to balance the needs of residents with our tourist-oriented coastal resources. I heard hundreds of participants engage to keep their neighborhoods whole and to empower minorities. These voices will continue to guide my priorities and actions for the next three years. 
Redistricting will cause the most significant change to District 1 in decades–University City (UC) east of the 5 will join District 6 and Pacific Beach will join District 1 upon the November 2022 general election.
I am proud to have represented all of University City in my first year in office and look forward to another year of addressing constituent issues, fighting for infrastructure dollars, and monitoring Pure Water construction. University City will be nearing the completion of their community plan update in late 2022 as residents prioritize protecting canyons and open space; creating new park and recreation facilities to align with future population growth; establishing more affordable housing; improving street infrastructure to encourage walking and biking; and continuing its role as a major employment center for the region with scientific research, life sciences, telecommunications, and more. This update will guide University City growth and development for the next 30 years.
I look forward to working with the next councilmember for District 6 to ensure a seamless transition for our constituents. I am committed to serving University City, please don't hesitate to reach out, make asks, and invite us to community events. My University City community representative, Kaitlyn Willoughby, is always available at kwilloughby@sandiego.gov.
---
It's a New Year with New Responsibilities. The new year brings new committee assignments. This year I am honored to serve as chair of the City's Environment Committee and vice chair of the Active Transportation and Infrastructure, Land Use and Housing, and Rules Committees. In addition, I serve on the boards of the San Dieguito River JPA, Mission Trails Regional Park Task Force, and San Diego Community Power.
While you can find a full list of my committee priorities here, below are a few highlights for each committee:
Environment Committee, Chair 
As chair of the Environment Committee, my number one priority is to achieve and advance our climate goals. This includes, but is not limited to:
Updating the Climate Action Plan (CAP)
Building out electric vehicle infrastructure
Addressing sea level rise
Protecting and managing our natural open spaces
Improving the utility undergrounding program, especially in areas vulnerable to wildfires
 The Environment Committee meets monthly. The next committee meeting will be held at 1 pm, Thursday, February 17th. Agendas are posted here.
Active Transportation and Infrastructure (ATI) Committee, Vice Chair
As a member of the ATI Committee, I my goal is to ensure sustainable and effective management of the City's infrastructure assets and investments. This is critical to avoid costly emergency repairs, wisely use limited resources, maintain public safety, and reach the City's CAP goals. My priorities include:
Update City regulations for Shared Mobility Devices or scooters
Adopt a Citywide Mobility Master Plan
Meet lifeguard facility needs
Repair sidewalks
Advocate for green infrastructure
The ATI Committee meets monthly. The next committee meeting will be held at 9 am on Thursday, February 17th. Agendas are posted here.
Land Use and Housing (LU&H) Committee, Vice Chair
As member of the LU&H Committee, I prioritize transparency, good government, and increasing housing for San Diegans.  To do so, I plan on:
Reforming Community Planning Groups (CPGs)
"Scaling up" affordable housing by creating and supporting new partnerships with public agencies
Prioritizing homelessness reduction and prevention
Preserving and producing affordable housing alternatives
Promoting equitable land use
Strengthening relationship and transparency with the San Diego Housing Commission
The LU&H Committee meets monthly. The next committee meeting will be held at 1 pm on Thursday, February 10th. Agendas are posted here. 
Rules Committee, Vice Chair 
As the Vice Chair of the Rules Committee, my priorities include making city hall transparent improving public input, and good governance. In order to achieve this, I am requesting, in part: 
Continued technology utilization to increase public access and participation in City Council and Committee meetings
Regular reports on the City's Boards and Commissions to ensure vacancies are filled promptly, and evaluate the potential for consolidations or hiatus

Expand translation services by the City Clerk's Office

Expand public outreach utilizing Community Based Organizations (CBOs) 
I am also seeking to reform the People's Ordinance, so that it exemplifies good governance by eliminating "double payment" for trash collection, removing barriers to Zero Waste goals, and increasing fiscal responsibility so we can deliver required and desired public services.  
The Rules Committee meets monthly. The next committee meeting will be held at 2pm on Wednesday, February 16th. Agendas are posted here. 
I am proud to serve the City of San Diego and its residents in these positions and look forward to a productive year. My University City community representative, Kaitlyn Willoughby, is always available at kwilloughby@sandiego.gov.