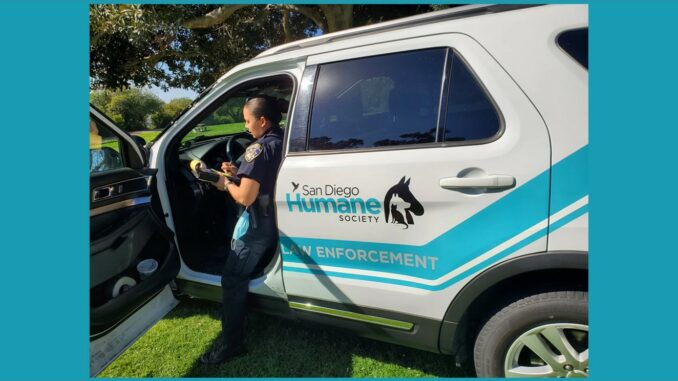 Information from KPBS: At the request of the City of San Diego, the Humane Society has established a "park patrol" enforcement program to address a pandemic-era problem. While the nonprofit, which runs animal control for many local cities, has long ticketed people for off-leash dogs, the number of scofflaw dog owners mushroomed after the COVID-19 lock downs were lifted in late 2020.
The Humane Society runs animal control for the city of San Diego and 13 other cities, but so far only San Diego has requested these all-day park patrols. According to the Humane Society, part of the problem is the pandemic pet phenomenon that emerged in 2020. People stuck at home with less to do began rescuing animals in record numbers. As a result, there are now more dog owners, and leash laws may be new to them.
School fields are another trouble spot, according to the Humane Society. While schools were closed due to COVID-19, people got used to bringing their dogs to run free. This has led parents and school officials to complain that dogs and their owners have taken over places that were once the domain of school children.
Joint-use fields, such as those at Standley Park, are another source of concern. "The children, during school hours and after school hours, use those fields. And with increased dogs off leash, there's going to be increased stool that's not picked up. There's going to be increased holes being dug that children might fall in. And then, of course, with off leash dogs, there's always that risk of someone being attacked," according to Humane Society Law Enforcement.
In the City of San Diego, dogs are required to be leashed in public for the safety of both animals and people. Report concerns about off-leash dogs to San Diego Humane Society's Humane Law Enforcement; call 619-299-7012, and press 1.
---