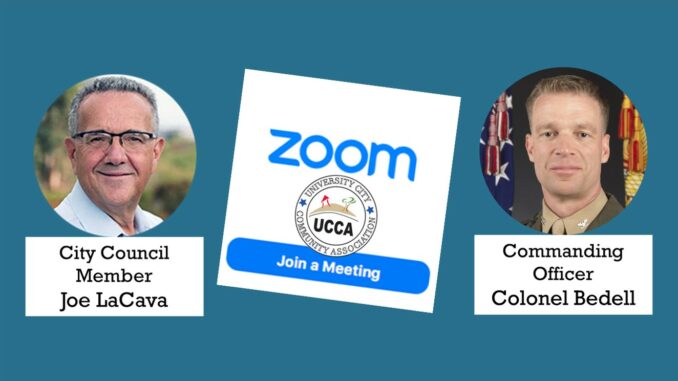 Thanks to both Colonel Bedell and Councilmember LaCava for participating UCCA's April community meeting. Councilmember Joe LaCava hosted a Town Hall with Marine Corps Air Station (MCAS) Miramar Commanding Officer Colonel Bedell at the April 13 UCCA meeting to facilitate a conversation between MCAS Miramar and University City residents.
CO Bedell provided a safety brief and stayed almost an hour; CM LaCava stayed afterwards to take a wide range of questions and comments from University City residents.
In case you missed it, here is the Zoom link and password.
Video link: https://us02web.zoom.us/rec/share/mSOjmValQ6RKSim8k5mpPbYqMZ22Kcs8tRxC-V1jodst3i2aNHFRNjM4xtD-TeU.hgjW3DIo8cH7eOAO
Passcode: !j+2c8?S
For related posts, visit https://www.universitycitynews.org/category/miramar/