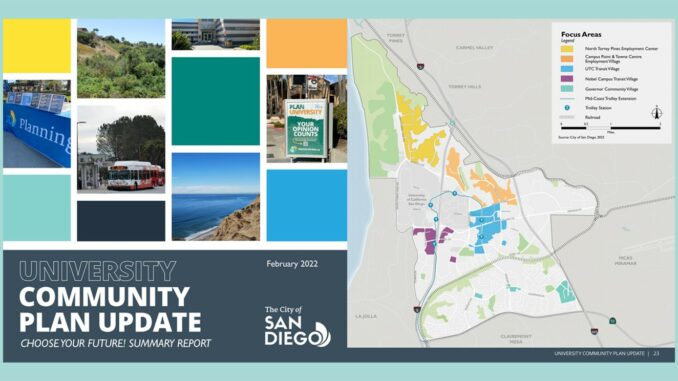 As reported by KPBS July 28, 2022: University City is one of several San Diego neighborhoods where city officials see a need for more housing. The Blue Line trolley now includes six stops in University City, making it ripe for the kind of transit-oriented development the city needs to meet its climate goals.
And the neighborhood has one of the city's most lopsided ratios of jobs to housing: 90,000 jobs but only 27,000 homes, according to estimates from the regional planning agency, SANDAG. The community plan update seeks to create more close-by housing for the people who work in those jobs, so that, even if they have to drive to work, at least it's a relatively short commute.
Some UCSD students hope "… that the San Diego Planning Department will zone for as much high-density housing as possible in its update to the University Community Plan" because students "… need more housing options near campus so they can help with the city's efforts to cut greenhouse gas emissions."
But not everyone agrees. "Allowing transient UCSD students to have as much say as people who have invested here is not a true representation of resident desires," was a sentiment expressed at a recent Community Plan Update Subcommittee meeting.  
Watch on YouTube:
---
Note: That's a excerpt and summary of an article and podcast published online by KPBS.