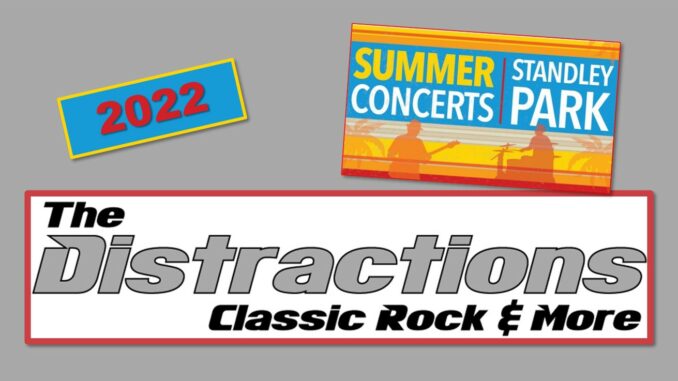 Announcing the last 2022 Summer Concert at Standley Park on Sunday, August 28. It's hard to believe that the Summer of 2022 is about to end. But, no worries, there's still time to gather with family and neighbors at Standley Park for one last concert.
The final Summer Concert 0f the 2022 season features local crowd favorite The Distractions with University City resident (and long time volunteer) Greg Zinser. The Distractions will take the stage on Sunday, August 28, 2022, and will feature classic rock and a wide variety of music. You are sure to find many of your favorites.
During the intermission, approximately 6 PM, UCCA will be thanking its many volunteers. If you volunteer for UCCA delivering newsletters, as a neighborhood watch captain, or as a newsletter contributor, or serve on the UCCA board, and you help to make University City more than a neighborhood, please join us. We will gather for a group photo and to share our stories.
---
Summer Concerts at Standley Park are sponsored by the University City Parks Council and held on Sunday evenings at Standley Park, 3585 Governor Drive, from 5 to 7 PM. Standley Park is a fun and family friendly venue with playground and large grassy area. Bring your friends, family and neighbors … and your dancing shoes. Come early with your chairs, blankets, and picnic dinners. Enjoy the evening with friends and neighbors in University City. Arrive early to pick out a favorite spot in the shade. Don't forget your dancing shoes!
There is no cover charge; donations are welcome and proceeds benefit the University City Parks Council, the Summer Concerts event sponsor.
Please note: Concert music is loud; the sound is amplified and projected with speakers located close to the stage. The Summer Concerts are subject to cancellation due to inclement weather.
The Summer Concert Schedule 2022 includes the following:
July 10 – Y3K – 80's dance band
July 17 – Side Traxx – 90 and 2000s rock
July 24 – Siers Brothers – classic 60s and 70s and more
July 31 – Electric Waste Band – Grateful Dead band
Saturday, August 6 Special Event – Banana Split Ice Cream Social at 2 PM
August 7 – Front Porch Pandemic Jazz Jam Band – music from the Great American Songbook
August 14 – Sea Monks – Country rock
August 21 – Bayou Brothers w/ Michelle Lundeen – Cajun Zydecco Blues
August 28 – The Distractions – local crowd favorite with a wide variety of music
Help wanted! University City Parks Council (UCPC) president John Schindel says "… we still need some "roadies" to help set up the stage (on concert days), etc at 1pm and take down at 7pm. We pay $20 cash." Contact John via email at jschindel1@san.rr.com if you'd like to give back to the community and make a little cash too. Great for a high school and college student perhaps?
Send your thanks to the Concert Committee:
Andy Freeburn – Concert Committee chair – promovstar@aol.com
John Schindel – President, University City Parks Council – jschindel1@san.rr.com
Greg Pardue – Forecast – band liaison – forecast@san.rr.com
For related posts, visit https://www.universitycitynews.org/category/parks-recreation-dept/