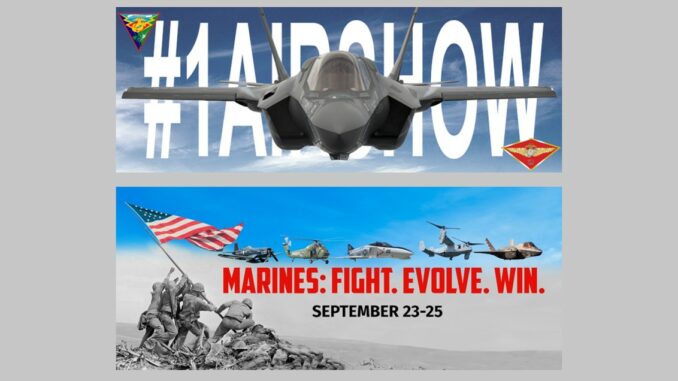 The commanding officer of Marine Corps Air Station Miramar, Col. Thomas M. Bedell, and the commanding general of the 3rd Marine Aircraft Wing, Maj. Gen. Bradford J. Gering, invite the San Diego community and aviation enthusiasts to the 2022 MCAS Miramar Air Show.
The theme of this year's Air Show is "Marines: Fight, Evolve, Win." and is a direct reflection of the Commandant of the Marine Corps Force Design 2030 program and the technical innovations the service is undertaking to remain the 21st century's force in readiness.
09/21/2022: The US Navy Blue Angels and other aircraft and performers are expected to arrive at MCAS Miramar on Wednesday, September 21.
09/22/2022: Aircraft aerial practice day is Thursday, September 22.
09/23 – 25: The Air Show, September 23 to 25, will feature the USAF C-17 West Coast Demo Team, USA Golden Knights, USN Leap Frogs, USMC F-35B Aerobatic Demo, MAGTF (Marine Air Ground Task Force), USAF F-22 Raptor Demo w/P-51D Heritage Flight, USN Blue Angels with Fat Albert, a 5G Technology Expo, many ground displays and exhibitors, and much more.
09/25/2022: The US Navy Blue Angels are expected to depart MCAS Miramar on Sunday, September 25, after the last aerial performance. 
The Air Show is free to the public and upgraded seating options are available. For performance schedules, ticket information, COVID-19 protocols, business and vendor opportunities, and more, please visit the Miramar Air Show website at miramarairshow.com.
Information courtesy of the Miramar Air Show and MCAS Miramar.