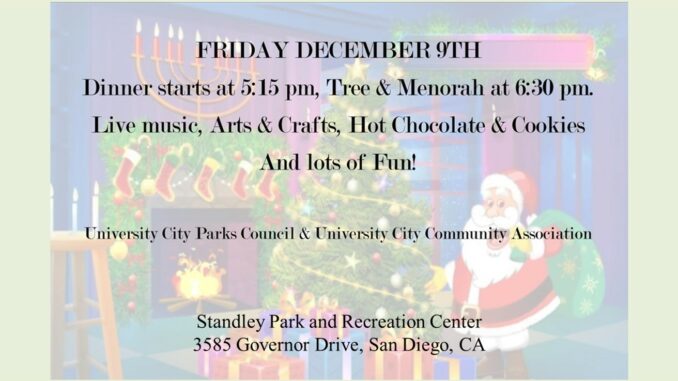 The volunteers of UCCA and the Parks Council and the Standley Community Recreation Group are keeping busy finalizing plans for the Friday, December 9, annual Dinner with Santa and the Christmas Tree and Hanukkah Menorah Lighting Holiday Celebration, at Standley Recreation Center, 3585 Governor Drive, San Diego, 92122.
Preliminary plans include Dinner with Santa beginning 5:15 PM; each pasta dinner with salad from Lorna's is $8 and can easily be shared. Holiday arts & crafts get underway at approximately 5:45; the outdoor musical program begins at approximately 6:30 PM and ends with the Christmas Tree and Hanukkah Menorah Lighting and a visit from Santa.
PS: If you'd like to help with the decorations, the holiday decorating at Standley Recreation Center will get underway on Monday, December 5, at 8:30 AM. Volunteers are welcome to drop by to offer a hand.
For more information, refer to the Winter Program Guide for Standley Recreation Center: https://www.sandiego.gov/park-and-recreation/centers/recctr/standley