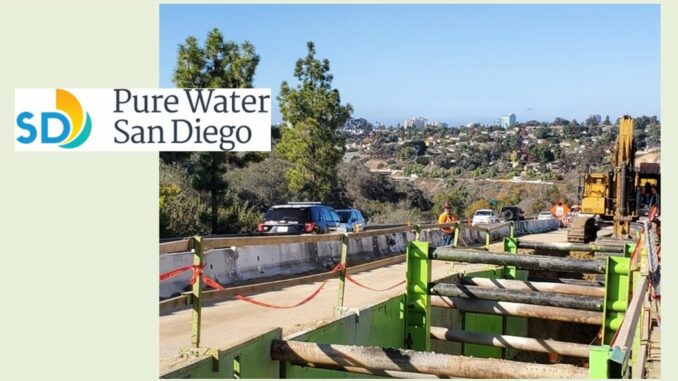 ➡️ Please note: The University City News website and print newsletter is free to read but it is not free to produce and print. UCCA membership dues and advertising help to make both the website and print newsletter possible. Membership dues also support many events, projects, and activities (such as the December Holiday Celebration) that make University City more than just a neighborhood.

 ➡️ Please join UCCA for 2023 at: https://www.universitycitynews.org/join-ucca-today/
Designated as the "Morena Northern Pipelines and Tunnels" on the Pure Water University City website, this project includes portions of two 10.5-mile pipelines: one 48-inch wastewater pipeline, which will carry wastewater north to the North City facilities for purification, and one 30-inch brine line that will carry the biproduct from water purification south to the Point Loma Wastewater Treatment Plant.
This project begins in Clairemont on Genesee Avenue and Appleton Street and continues through University City on Genesee Avenue, Nobel Drive, Towne Centre Drive and Executive Drive. Tunneling will be completed at Genesee Avenue and State Route 52 (San Clemente Creek), at Genesee Avenue and Rose Creek Canyon, and under Interstate 805. 
From Sarah Bowles, Pure Water Community Liaison:
Happening Now – Pipeline Installation along Genesee Avenue: In November 2022, construction began in Clairemont on Genesee Avenue between Appleton Street and SR-52. For public and worker safety, crews installed concrete barriers, starting just north of the Appleton Street intersection to transition traffic safely into the southbound lanes and continue north towards the SR-52 freeway.
In Clairemont, the northbound lanes on Genesee Avenue are currently closed for the installation of the pipelines. The southbound lanes are split to accommodate a single lane for northbound traffic and a single lane for southbound traffic. Work is expected to occur during the day, Monday through Friday from 7 a.m. to 5 p.m. and Saturday from 8:30 a.m. to 5:00 p.m. through early 2023. The pedestrian sidewalk remains open and vehicles must share the road with bicyclists.
In University City, pipeline construction is ongoing and continuing along Executive Drive to the I-805 tunnel shaft at the Executive Drive cul-de-sac.
Coming Soon – Pipeline Installation along Nobel Drive and Towne Centre Drive: More information will be provided in the coming months for pipeline construction along the rest of the alignment. The pipeline construction schedule is being solidified and ample notice will be given prior to pipeline construction. For the most up-to-date information about Pure Water pipeline construction in the University City area, visit: bit.ly/3gmrxNo-PureWaterUniversityCity
For more information: Contact Pure Water staff via email: purewatersd@sandiego.gov or phone: 833-UTC-PWSD (833-882-7973). Register for construction alerts for the "Morena Northern Pipelines and Tunnels" project at: sandiego.gov/public-utilities/sustainability/pure-water-sd/phase-1-projects