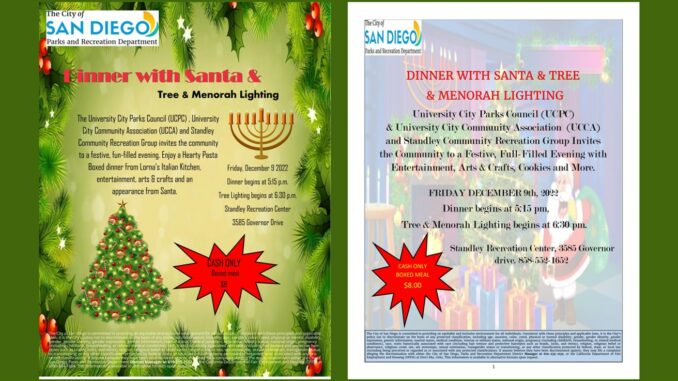 ➡️ Please note: The University City News website and print newsletter are free to read but are not free to produce and print and maintain. UCCA membership dues and advertising revenue help to make both the website and print newsletter possible. Membership dues also support many events, projects, and activities (such as the December Holiday Celebration) that make University City more than just a neighborhood.

 ➡️ Please join UCCA for 2023 at: https://www.universitycitynews.org/join-ucca-today/
Over 20 Years of Holiday Lighting Tradition in University City by Sandy Lippe: On Friday, December 9, the University City community will come together for a lovely tradition of twenty years. Evening events include Dinner with Santa with special holiday craft projects for children after dinner.
Then we will have the annual UCCA musical program that includes: the Standley Middle School Marching Band, the Key of She performing holiday tunes, the "Hanukkah" song by Tom Ventimiglia, singer/composer. This year we welcome the Our Mother of Confidence Children's Choir.
The highlights of the evening include the lighting of the Hanukkah Menorah and the Christmas Tree. Then Santa arrives to learn the lists of all the children.
Just before the music begins, our newly elected District 6 City Councilmember Kent Lee will "take the baton handoff" from District 1 City Councilmember Joe LaCava. After the musical entertainment and the arrival of Santa, hot chocolate and cookies will be served.
UCCA, the Parks Council, and the Standley Community Recreation Group worked as a team for this traditional holiday event which is not to be missed. All times approximate.
5:15 PM – Dinner with Santa – Boxed Spaghetti Dinner from Lorna's Italian Kitchen – $8 for pasta dinner with salad (enough for sharing)
5:45 – 6:30 PM – Arts & Craft projects
6:30 PM – Outdoor musical program; ends with Hanukkah Menorah Lighting and Christmas Tree Lighting.
7 PM (approximately) – Standley Marking Band plays Rudolph and welcomes Santa
---
Standley Park & Recreation Center is located at 3585 Governor Drive. On-site parking is extremely limited. On-street parking is available on Governor Drive and Mercer Avenue and surrounding streets.
For more information, please refer to the attached flyers or visit the City website: https://www.sandiego.gov/park-and-recreation/centers/recctr/standley
---
➡️ Please note: The University City News website and print newsletter are free to read but are not free to produce and print and maintain. UCCA membership dues and advertising revenue help to make both the website and print newsletter possible. Membership dues also support many events, projects, and activities (such as the December Holiday Celebration) that make University City more than just a neighborhood.

 ➡️ Please join UCCA for 2023 at: https://www.universitycitynews.org/join-ucca-today/