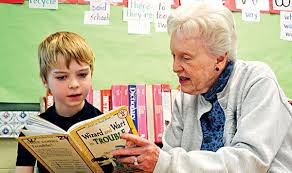 From Kenway Hoey, EAR (Everyone a Reader) Program coordinator at Curie Elementary:
Would you like to see a child beam with joy after reading a book without difficulty?  Curie Elementary is planning to restart the reading program in January 2023.  The school is seeking volunteers to tutor students (grades 1-3) to improve their reading proficiency using the SD County's Office of Education Everyone A Reader (EAR) program.


Volunteers will be assigned 4 students and work with them 15 minutes per session, twice/week on a Monday/Wednesday or Tuesday/Thursday schedule with a 5 minutes transition time between students.  The time commitment is about 3 hours /week. 

A training period of 2 hours (by video) will be provided before tutoring the students.  A SDUSD volunteer application, a background check and a negative TB test or a completed questionnaire at the school nurse's office will need to be completed.

Please contact Kenway Hoey at khoey2010@gmail.com if you wish to help out with this program.  Thank you.
For more information about Curie Elementary, visit: https://curie.sandiegounified.org/
---
➡️ Please note: The University City News website and print newsletter are free to read but are not free to produce and print and maintain. UCCA membership dues and advertising revenue help to make both the website and print newsletter possible. Membership dues also support many events, projects, and activities (such as the December Holiday Celebration, the 4th of July UC Celebration, Summer Concerts, Oktoberfest, neighborhood watch, street median and utility box beautification) that make University City more than just a neighborhood.

 ➡️ Please join UCCA for 2023 at: https://www.universitycitynews.org/join-ucca-today/