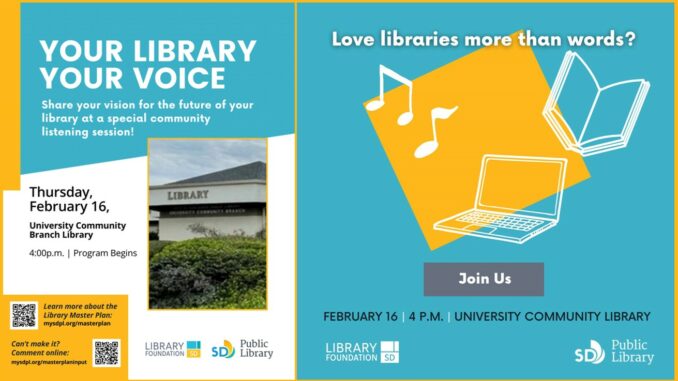 Upgraded facility? New technology? More books? Additional Programs? 
Information courtesy of Library Branch Manager: The public libraries are asking their patrons and their community members to share their visions for the future of the University Community Library on Governor as well as the North University Library on Judicial.
What do you love? What would you change? What would you add?
The San Diego Public Library and the Library Foundation SD are developing a new Library Master Plan to provide a long-range vision and strategy for San Diego Public Library facility, technology, and program investments.
Representatives from the Library Foundation San Diego and San Diego Public Library administration seek broad community input on specifics of what you love about your local library, what you would change, and what you would add.
On February 16, at 4 PM, the Community Listening Session for the Library Master Plan is at the Library on Governor
University Community Library, 4155 Governor Drive, University City
Thursday, February 16, 2023. 4:00pm – 5:00pm
Additional Opportunities to Share Your Input