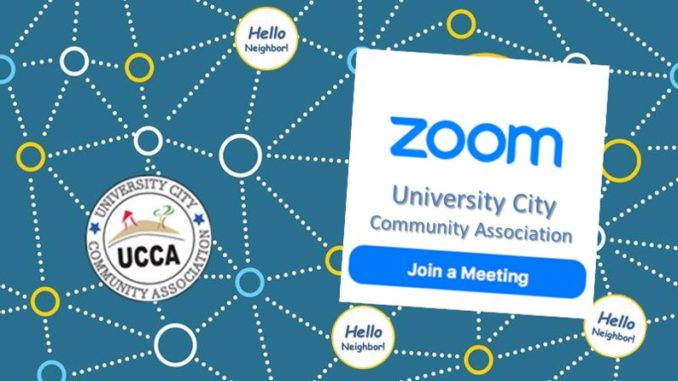 Update 3/9/2023 from president Diane Ahern: During the March 8, UCCA Zoom meeting, we were visited by an intruder who made some inappropriate comments during the Pure Water presentation and posted some inappropriate comments in the chat.  Thanks to all my co-hosts who worked to get this person off our call including Sarah Bowles, Chris Nielsen, Katie Rodolico, and Mack Langston. I was able to erase the person's comments in the chat but not the image this person drew.  UCCA is making this recording available to those who request a link. Please contact UCCA at UniversityCityNews@gmail.com to request the link.
---
UCCA Community Association meets Wednesday, March 8, 6 PM, via Zoom.  The Zoom Link and information to join the meeting are at the end of this post.
Tonight's meeting includes two Special Reports:
Pure Water construction updates for Genesee, Nobel, Towne Centre Drive, and Executive Drive
Spreckels Elementary Whole Site Modernization
In addition, we'll have our usual and customary reports from police department, planning group, community, and legislative representatives including city council, county, state and federal representatives. We're also expecting Requests for Funding from representatives of EdUCate! for the Taste of the Triangle and the Centurion Foundation to benefit the Track Team. UCCA meetings also provide a public forum at which community interests and concerns may be expressed.
Agenda: Please review the Preliminary Agenda below or at this link: March 8 2023 – DRAFT – UCCA agenda
Public Forum and Agenda Suggestion: If you have an agenda item to share or wish to speak during public comment, please email us at: UniversityCityNews@gmail.com. 
Zoom Link: Information to join the meeting is at the end of this post.
---
6:01 PM Call to order – Diane Ahern
6:02 PM Approve Agenda – Vote
6:05 PM Special Report: Pure Water Construction – Genesee, Nobel, Towne Centre Drive, Executive Drive; speakers Sarah Bowles and Clem Wassenberg
6:20 PM – Special Report: Spreckels Elementary Whole Site Modernization
6:25PM Public Safety
• Police Department – Officer Anderson Brown
• Fire Department
6:30 PM Legislative representatives – limit 3 minutes please
Mayor Gloria – Michaela Valk
CM D6 Kent Lee – Dustin Nguyen
US Representative Scott Peters – Rachel Dugan
CA Senator D40 – Brian Jones – Marc Schaefer
CA Assemblymember D77 – Tasha Boerner-Horvath – Suleyma Balderas
County BOS D3 – Terra Lawson-Remer – Rachel Beck
SDUSD School Board – Cody Petterson
6:40PM – President's Remarks – Diane Ahern
ShredFest – Coldwell Banker – Saturday, March 11, at the Coldwell Banker parking lot behind Vons
Councilmember Kent Lee's budget priorities for Library expansion and Rec Center improvements and renovations
Meet & Greet with Kent Lee at Standley Park – March 18 at 10 AM
Organic Recycling – new bins expected in June; online training ongoing; reference: https://www.sandiego.gov/environmental-services/recycling/sb1383
UCCA Membership – Thanks so all who have already joined UCCA for 2023. Membership cards and a thank you gift to members will be mailed on a monthly basis. For those who haven't had a chance to join up, there is information in the February newsletter and on our website at https://www.UniversityCityNews.org
UCCA Advertisers – Thanks to all who support our newsletter with advertising and membership
6:45 PM Community Leaders / Open Forum – 3 minutes with Q&A
Community Planning Group (UCPG) – Chris Nielsen
Community Plan Update Subcommittee (CPUS) – Katie Rodolico
Kendra Cole – EdUCate!'s Taste of the Triangle – possible vote on funding request
Anne Cass – Centurion Foundation – support for track team – possible vote on funding request
Bonnie Kutch – Help Save UC
Others?
---
6:55 PM Approve Minutes – Vote
7 PM Roll Call of UCCA Voting Members – Jim Beshears
UCCA Board Member and Committee Reports – 3-minute announcements and/or discussion
Treasurer's Report for January – Jemma – review and vote
Budget Discussion – Jemma
Membership Report – Julie Nydam and new member discussion
Grants – Diane and Mack
SD County Fair banners & partnership with UC High School – Barry Bernstein
Committee Reports – Newsletter / Advertising revenue – Jemma & Terri
Neighborhood Watch – Barbara Gellman – Curb paining discussion and vote
Network of Town Councils – Diane & Mack
Others?
7:25 PM
UCCA – New Business
Anything else?
7:30 PM
---
Topic: Zoom – UCCA University City Community Association Monthly Meeting
Time: Wednesday, March 8, 6 PM
Join Zoom Meeting: https://us02web.zoom.us/j/89764039153?pwd=YnVIUEFpOUdYKzRaZWNTTHhuTHMyZz09
---
OR – for added security:
Log in / Sign On to your Zoom Account: https://zoom.us/signin#/login
Enter Meeting ID: 897 6403 9153
Enter Passcode: 180904
---
In other University City News: