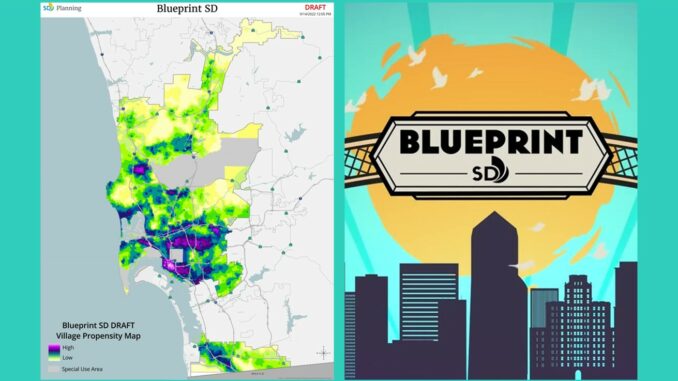 From the City of San Diego: The City of San Diego encourages you to make your voice heard about Blueprint SD. Blueprint SD will encourage sustainable growth, including more homes and jobs, in areas that will help the City achieve its climate goals and improve opportunities to walk, roll, bike and take transit.
To provide more homes and jobs in a climate-friendly way, the City is asking all San Diegans to participate in the Blueprint SD survey today and help prioritize policies for sustainable growth.
The survey asks San Diegans to rank which strategies are most important to them to achieve more convenient and affordable transportation options and strategies that would encourage them to get to work from their homes in a climate-friendly way. The survey also asks participants to prioritize strategies for planning homes near transit and creating neighborhoods that will fulfill their daily needs.
Blueprint SD includes an updated draft Village Propensity Map (see attached) that identifies where this future growth could occur and be most efficiently supported by convenient and affordable opportunities to walk, roll, bike and ride transit.
Blueprint SD also takes into consideration recent housing needs, the City's Climate Action Plan goals and the San Diego Association of Governments' new vision for the region's transportation system, also known as the 5 Big Moves.
This updated framework for growth will also help accelerate community plan updates for San Diego neighborhoods.
– Residents can learn more about BlueprintSD on the City's website at: https://www.sandiego.gov/blueprint-sd
– Submit comments at any time to: BlueprintSD@sandiego.gov
– Take the survey at: https://www.blueprintsd.org/
Village Propensity Map: file:///C:/Users/ahern/Documents/draft-blueprint-map-220914.pdf
See also: https://www.sandiego.gov/sites/default/files/2023-3-9_blueprint_sd_input.pdf