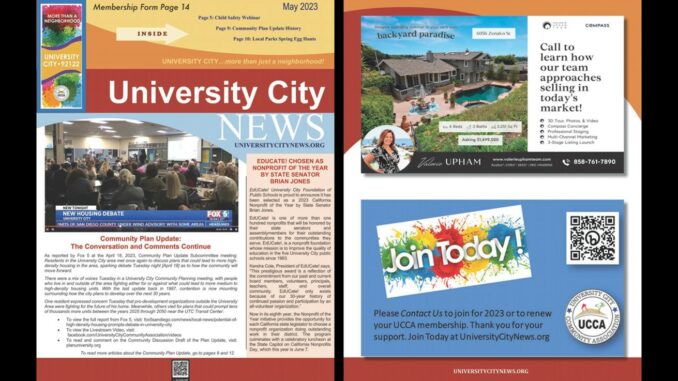 UCCA will meet via Zoom on Wednesday, May 10, at 6 p.m. For your security and the security of other online participants, please log into your Zoom account to check for updates before you join UCCA's meeting. Zoom information is at the end of this post.
---
The May 2023 newsletter (PDF version) is now online and available to read, print, and share with family and friends. Click on the Newsletter Cover image (below) to read and download the PDF version. The print versions of the May 2023 University City News will be available at the Libraries and Recreation Centers on Friday, April 28. Home delivery begins this weekend.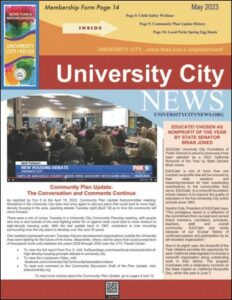 Let's support our local businesses: UCCA urges all readers to refer to the advertising section our of print newsletter for current promotions from our local advertisers. While you wait for your print copy, you can view, share, and download the PDF version: https://www.universitycitynews.org/ucca-newsletter-archives/
The University City News website and print newsletter are free to read but are not free to produce and print and maintain. UCCA membership dues, advertising revenue, and donations help to make both the website and print newsletter possible. Membership dues also support many events, projects, and activities (such as the December Holiday Celebration, the 4th of July UC Celebration, Summer Concerts, Oktoberfest, neighborhood watch, street median and utility box beautification) that make University City more than just a neighborhood.
Join UCCA Today! Thank you if you have already joined or renewed for 2023. And if you haven't joined for 2023, please send your check with the membership form on page 14 of the University City News print newsletter: or go to Join UCCA Today at and pay online with your credit or debit card.
---
From UCCA's president Diane Ahern: Hello University City. It's May already! And just like that, we're well into the 2nd quarter of the year.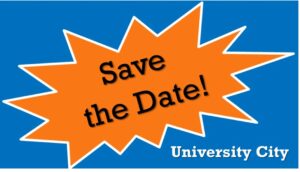 May is Arthritis Awareness Month, Better Sleep Month, Mental Health Awareness Month, National Walking Month, and Women's Health Care Month. May is also Asian American and Pacific Islander Heritage Month and Military Appreciation Month.
May is a month of special days including Bike Anywhere Day, May Day, Memorial Day, Mother's Day, National Pizza Party Day, National Smile Day, National Sunscreen Day, Star Wars Day, and World Laughter Day.
Get some sleep, take a walk, ride a bike, eat some pizza, put on some sunscreen, thank a service member, smile … No matter what you chose to commemorate or celebrate this month, I hope your May is special this year.
What's your focus this month? My focus is to help keep our community informed with news and events related to University City.  UCCA's volunteers and contributors help me do that through UCCA's University City News print newsletter, website and social media, community outreach, event support, and public meetings.
Of course, we encourage community participation in the Community Plan Update process and we urge you to attend meetings and submit suggestions to the planning department. Read on … you'll find articles from the planning group, CPUS, and planning department in this May newsletter.
Our University City News print newsletter is unique. It is the only source of hyperlocal news in University City. You'll find news and features here that you won't find anywhere else. We thank all the UCCA members, contributors, and newsletter advertisers who help to keep us in print.
I'm confident that you, our readers, value the University City News as much as I do. If you haven't had a chance to join UCCA for 2023, now is the time. We need your support and donations to help keep our newsletter in print.
A special shout-out to California Coast Credit Union University City branch for hosting our in-person meeting in April and providing us with yummy tacos from Primo's. Thank you!
This month, we return to an online meeting via Zoom on Wednesday, May 10, at 6 p.m. I hope you can join us. We expect to have the Pure Water Construction Team as our guest presenters. In addition, we expect to have news about upcoming community events, from the police department, planning group UCPG, community plan update CPUS, and legislative representatives including city council, county, state and federal representatives. UCCA meetings also provide a public forum at which community interests may be expressed and discussed.
You may wonder why UCCA hosts public meetings? It's part of UCCA's mission … to provide a forum where the interests of residents may be expressed and contributions made to the protection of life and property in the community. If you have an agenda item to share or wish to speak during the meeting public forum, please contact me at UniversityCityNews@gmail.com
Have a great May; I hope to see you out and about in University City this month. We have a lot to talk about. Thank you so much for helping to keep University City more than just a neighborhood.
---
UCCA will meet via Zoom on Wednesday, May 10, at 6 p.m. For your security and the security of other online participants, please log into your Zoom account to check for updates before you join UCCA's meeting.
Zoom: UCCA University City Community Association Monthly Meeting
Time: May 10, 2023, 6 p.m.
Join Zoom Meeting: https://bit.ly/UCCA-May-2023

Meeting ID: 897 6403 9153
Passcode: 180904