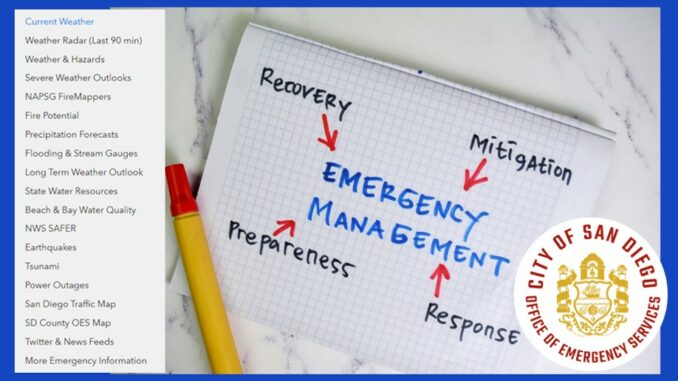 From the City of San Diego: To help San Diegans understand and better prepare for environmental threats like wildfires and flooding, the City of San Diego has developed the San Diego Hazard Dashboard. This new tool is accessible online and designed to give City staff a common operating picture about current weather conditions, potential environmental threats and emerging information about regional incidents.
The online tool is intended to provide real-time weather and situational data for daily awareness and during emergency conditions.
By linking the Hazard Dashboard to the City of San Diego website, this information can be provided in a timely manner from a central location and is accessible to anyone. The Hazard Dashboard was developed by the City's Office of Emergency Services (OES), in coordination with the Department of Information Technology.
The City of San Diego's Office of Emergency Services strives to promote a secure and resilient City with the capabilities required across the whole community to prevent, protect against, mitigate, respond to and recover from threats and hazards that pose the greatest risk.
To access the SD Emergency Dashboard, visit: sandiego.gov/oes