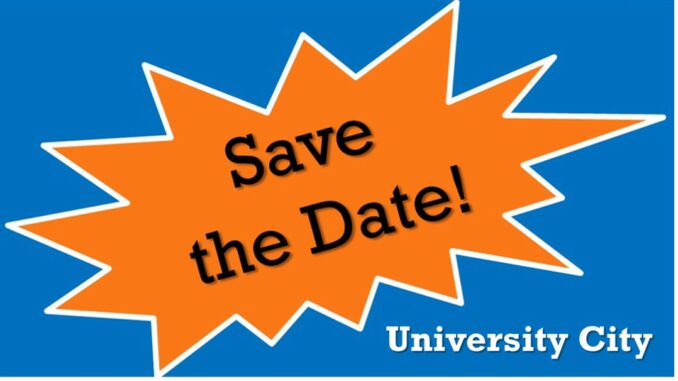 Update June 12, 2023: Hello University City neighbor, there's a lot going on in University City so I'll keep this short and simple. All listed events are open to the public. UCCA will be there and I hope you will be too. 😀
Tue, June 13 UCPG (Planning Group) with Pure Water, MCAS Miramar CO, and CPUS consensus items: https://www.universitycitynews.org/UCCA/UCPGJune2023 
Wed, June 14 UCCA (Community Association) with Pure Water construction and Public Safety updates: https://www.universitycitynews.org/UCCA/UCCAJune2023
Tue, June 20 Community Plan Update Subcommittee (CPUS): https://www.planuniversity.org/meetings 
Wed, June 21 UC Celebration planning meeting: https://www.universitycitynews.org/uc-4th-of-july/
Fri, June 23 Summer Movie in the Park: https://www.universitycitynews.org/movies-in-the-park/
Mon, June 26 Meet & Greet with County Supervisor Terra Lawson-Remer: https://www.universitycitynews.org/UCCA/June26SupervisorLawson-Remer
Fri, June 30 Summer Movie in the Park: https://www.universitycitynews.org/movies-in-the-park/
Tue, July 4 UC Celebration at Standley Park: https://www.universitycitynews.org/uc-4th-of-july/ 
Sun, July 9 Summer Concert at the Standley MS Pavilion Stage: https://www.universitycitynews.org/summer-concerts-in-standley-park/
---
From UCCA's President Diane Ahern: Hello University City. It's June already! The PDF version of the June University City News newsletter is available today; the print newsletter will be available this weekend at our Libraries and Recreation Centers. Home delivery for those who are served by our UCCA volunteers begins this weekend.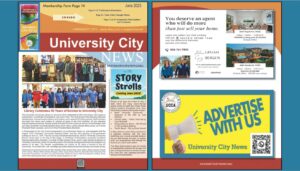 What's your focus this month? My focus continues to be to help keep our community informed with news and events related to University City. UCCA's volunteers and contributors help me do that through UCCA's University City News print newsletter, website and social media, community outreach, event support, and public meetings. Of course, we encourage community participation in the Community Plan Update process and we urge you to attend meetings and submit suggestions to the planning department.
Please take the time to read articles from our community contributors including the planning group, CPUS, the police and fire departments, planning department and many more in the June newsletter.
Yes, there's a lot going on in University City. Scroll down for the June 2023 Save the Date Short List and take a look at our June print newsletter for all the details. But first, please keep in mind that while many other publications and websites charge a fee to read articles and print news, UCCA's University City News remains free as a University City community resource for all. If you can join UCCA or make a donation to help us stay in print, please do so at: https://www.universitycitynews.org/join-ucca-today/
---
Community Meetings:
Special Events (Please note that many of these special events are not sponsored by UCCA and are included in this list as a community courtesy.)
Garage Sale in University City, Saturday, June 3, 2023, from 8 AM to 1 PM. Contact: ColdwellBankerUC@gmail.com or call: 858-352-6587
Organic Waste Recycling June 2023: https://www.sandiego.gov/environmental-services/recycling/sb1383
PEOPLE FOR A CLEAN UC, Sunday, June 11, 7:15-7:30am – meet & greet; 7:30-9:00am – work: Cleanup volunteers meet at Starbucks, 3202 Governor Drive, supplies provided.
County Supervisor Terra Lawson-Remer Meet & Greet, Monday, June 26, 6:15 PM at Nobel Recreation Center: refer to print newsletter available at:  https://www.universitycitynews.org/ucca-newsletter-archives/
UC Celebration 4th of July at Standley Park: https://uccelebration.com/
Standley Summer Safety Splash on July 23; details in June newsletter: https://www.universitycitynews.org/ucca-newsletter-archives/
June Schedules begin at our Libraries, Parks, and Pools:
University Community and North University Libraries program schedules:
Pools and Parks and Recreation Centers program schedules:
Ongoing Events and Training, City of San Diego:
In Case We Missed It: