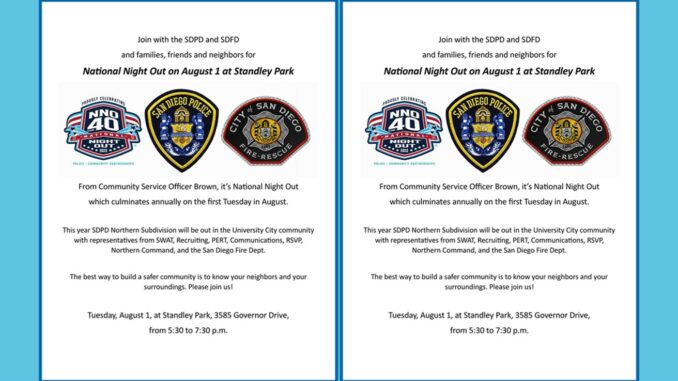 Meet and Greet in the Park during National Night Out and get to know your First Responders; Tuesday, August 1 Standley Park, 3585 Governor Drive, 5:30 to 7:30 p.m.
One of the best ways to build a safer community is to get to know your neighbors and your surroundings.
Meet and greet with Police Department representatives from SWAT, Recruiting, PERT, Communications, RSVP, and Northern Command.
Greet with the Fire Department too.
Learn how these first responders protect and serve our communities.
Share the experience with friends and families from University City, Bay Ho, and Clairemont.
Ice cream vendor Yummi Tummi will be there also with goodies available for purchase.
Hosted by the San Police Department Northern Subdivision for Inland Communities serving Bay Ho, Clairemont, & University City.
For more information, contact your Neighborhood Watch captain or visit: https://www.universitycitynews.org/neighborhood-watch/