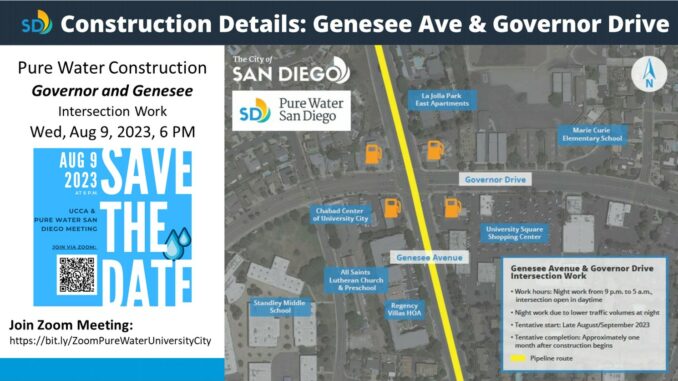 Update 08/10/2023: The Zoom Recording of the Wednesday Pure Water and AC Water & Sewer Group 1048 construction projects update is now available.

To view the Zoom recording, copy the Passcode; then click on the Zoom recording link and enter the Passcode when prompted.
---
Pure Water construction on Genesee is expected to enter a new phase in September with construction work beginning on Genesee at the Governor Drive intersection. All work is expected to take place at night. The Pure Water construction team and UCCA will host a public Zoom meeting on Wed, Aug 9, 6 PM via Zoom with a Pure Water Construction Update on Governor / Genesee Intersection and much more. It's everything you need to know about August / September Pure Water construction on Genesee, Nobel, and Towne Centre Drive in University City.
Please note that this is not a formal UCCA meeting; we will not take formal minutes; nor will we take any formal action. However, this meeting is open to all, will be recorded, and the Zoom recording will be available on UCCA's University City News websites.
This is a Zoom meeting and all are welcome. For your safety and security, please log into your personal Zoom account to Check for Updates before joining UCCA's meeting.
Enter the Zoom waiting room at 5:50 PM and Join Zoom meeting at 6 PM, Wednesday, August 9.
Topic: Pure Water University City at Wed, Aug 9, 2023 06:00 PM
Join Zoom Meeting: https://bit.ly/ZoomPureWaterUniversityCity

Meeting ID: 859 7419 7634
Passcode: 697817
Everything you need to know about Pure Water construction work at Governor and Genesee; presenters are from the Pure Water construction team. Download and print PDF agenda at: Agenda – Pure Water University City at Wed August 9 2023 – Agenda
Preliminary agenda items include:
6:00 PM : Call to order and community and elected leader announcements and non-agendaPresen information items

6:15 PM : Pure Water update with Clem Wassenberg, Construction Manager, and Sarah Bowles, Community Liaison

6:40 PM : AC Water & Sewer Group 1048 update with Vic Salazar, Community Liaison

6:55 PM : Q&A on Public Utilities Projects

7:05 PM : Community and elected leader announcements and non-agenda information items
If  you have a question or want to know more, please visit: https://www.sandiego.gov/public-utilities/sustainability/pure-water-sd/phase-1-projects/university-city-eastgate-mall/morena-northern-pipeline-alignment-and-tunnels