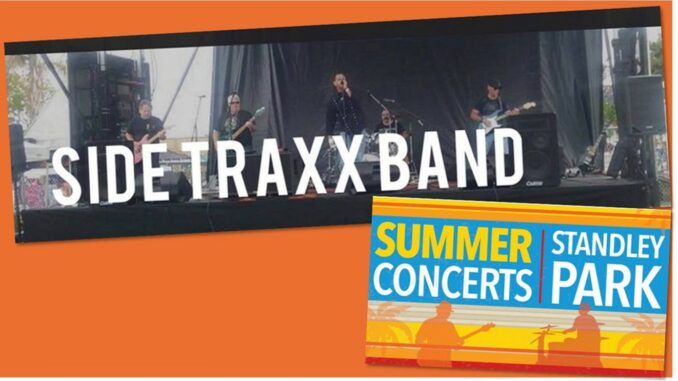 2023 Summer Concerts conclude with Side Traxx on Sunday, August 27. The Summer Concerts are sponsored by the University City Parks Council and held on Sunday evenings at Standley Park, at the new Standley MS Pavilion Stage on Governor Drive, from 5 to 7 PM.
UCCA will host its Volunteer Appreciation / Recognition during the intermission of the August 27 concert. All UCCA volunteers including newsletter delivery people and distributors, neighborhood watch captains, and UCCA board members, are encouraged to attend to be recognized and to pose for a picture for the newsletter. UCCA Volunteers are asked to gather at the UCCA pop-up tent booth at 6 PM for a thank you recognition and a presentation to our Volunteer of the Year.

In addiiton, Councilmember Kent Lee is expected to join us for an informal meet and greet.
The Standley MS Pavilion Stage is adjacent to Standley Park near the Standley MS parking lot on Governor Drive. Standley Park is a fun and family friendly venue with playground and large grassy area. Bring your friends, family and neighbors … and your dancing shoes. Come early with your chairs, blankets, umbrellas, and picnic dinners. Enjoy the evening with friends and neighbors in University City.
Please note that all concerts are outdoors and therefore subject to cancellation due to weather.
For more information about the Summer Concerts, please visit: