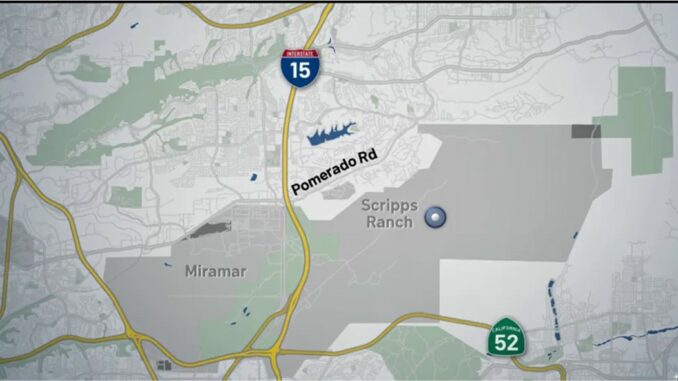 Update from 2nd Marine Aircraft Wing 08-26-2023 via Facebook at https://www.facebook.com/2ndMAW:
Marine Identified from F/A-18D Hornet Crash at MCAS Miramar. The Marine was assigned to Marine All-Weather Fighter Attack Squadron (VMFA(AW)) 224. The squadron was participating in Service Level Training Exercise 5-23. The name of the deceased Marine is Maj. Andrew Mettler. The crash is under investigation. All media queries may be directed to the 2nd MAW Organizational Mailbox at 2ndmaw.commstrat@usmc.mil.
---
Update from Union-Tribune 8:13 AM 08-25-2023 – Pilot killed in military jet crash at Miramar air base.
A Marine pilot was killed when a F/A-18D Hornet fighter jet crashed late Thursday near Marine Corps Air Station Miramar base, military officials said. The jet crashed just before 11:55 p.m. Thursday on government property east of the air station. The downed plane was part of the 2nd Marine Aircraft Wing with the Marine All-Weather Fighter Attack Squadron, officials with the 2nd Marine Aircraft Wing announced Friday morning.
That's an excerpt from the San Diego Union Tribune. Read the entire report at: https://www.sandiegouniontribune.com/news/military/story/2023-08-25/military-jet-crash-miramar-air-base
---
Press Release issued approximately 6 AM 08-25-2023 from MARINE CORPS AIR STATION MIRAMAR, Calif. (August 25, 2023):
We are aware of an accident involving an F/A-18 Hornet in the vicinity of MCAS Miramar at 11:54 P.M. PST [08-24-2023]. This aircraft is not part of 3d MAW but was operating out of MCAS Miramar. The crash site is on government property east of the air station and there are no indications of damage to property on the ground. Search and rescue actions are ongoing. An investigation has begun. We will provide more information as it becomes available.


For queries and updates, please contact the MCAS Miramar Communication Strategy and Operations office at 858.307.6000 or miramarmedia@usmc.mil
---
As reported by NBC7 this morning at approxoimately 5:15 AM:
F/A-18 fighter jet crash under investigation on MCAS Miramar; It is unknown if the pilot was injured or what may have caused the crash. 

Military officials are investigating an F/A-18 fighter jet crash reported in a remote part of the base Thursday night.

The crash was reported right before midnight in a remote part of the base east of Interstate 15, MCAS public affairs confirmed to NBC 7. There are no indications of damage to property on the ground, a release said.

It is unknown if the pilot was injured or what may have caused the crash. The aircraft is not part of the 3rd Marine Aircraft Wing but was operating out of MCAS Miramar, a release said. Search and rescue actions are ongoing.

San Diego Police was initially responding to the incident but MCAS Miramar has taken over.

The incident is under investigation.

This is a breaking story. For updates and more information, visit: https://nbcsandiego.app.link/1wXah86iyCb