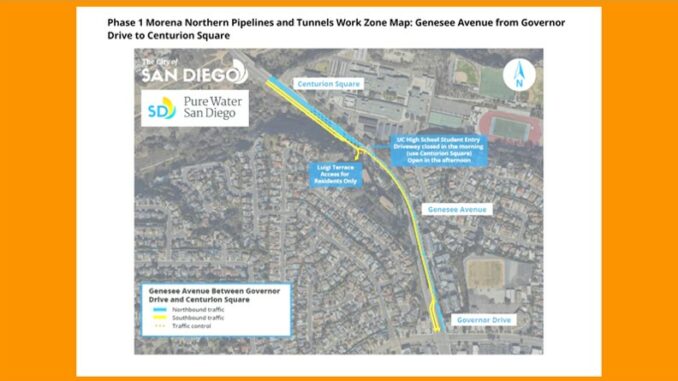 From Pure Water San Diego: Beginning Wednesday, Nov. 8, 2023, pipeline construction continues along Genesee Avenue heading north from Governor Drive as part of the City of San Diego Morena Northern Pipelines and Tunnels project in University City. Construction teams will install one 48-inch wastewater pipeline and one 30-inch brine pipeline in a 16-foot-deep trench in the southbound lanes of Genesee Ave.
Construction will occur Monday through Friday during the daytime from 7 a.m. to 5 p.m. There will be no intersection closures as this work continues through Spring 2024.
Please plan extra time when traveling on Genesee Avenue. University City High School students and parents are to use the entrance at Centurion Square during the morning school commute/drop off. The student entry will be closed in the morning and the gate will reopen in the afternoon for school dismissal/exit.
The City and project team are committed to completing construction as efficiently as possible with safety as our highest priority, and the community's patience and coordination are appreciated.
What to Expect:
The construction schedule is subject to change due to unforeseen circumstances like inclement weather.
Construction will occur Monday through Friday during the daytime from 7 a.m. to 5 p.m. As with all construction, the schedule is subject to change.
Lanes will be shifted on Genesee Avenue to allow for two-way traffic; pipeline installation will occur in the southbound lanes and there will be one lane in each direction in the northbound lanes of Genesee Avenue.
24/7 access for emergency vehicles, residences and businesses will be maintained.
For safety reasons, please follow all posted signage. Please anticipate traffic delays, construction noise and overnight construction lights.
For more information and to view all Construction Notices, visit: https://www.sandiego.gov/public-utilities/sustainability/pure-water-sd/phase-1-projects/university-city-eastgate-mall/morena-northern-pipeline-alignment-and-tunnels