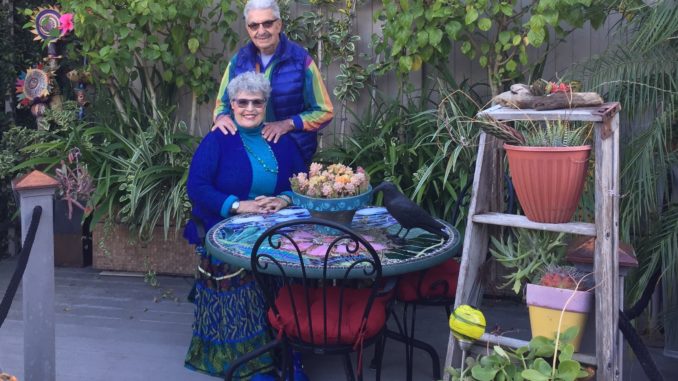 Story and photos courtesy of Diane Ahern:
A composition of texture and whimsy is how electrical contractor Chuck Muell of Wizard Electric describes the gardens of Carol Costarakis and Rolf Haas.

Carol and Rolf were hosts of a recent UC Garden club 'Twilight Gathering' designed to highlight their magical and creative back yard which contains a koi pond and many mosaic items created by Carol. As twilight gradually became nightfall, the garden came alive as a place of mystery and discovery.

With additional lighting, they sought to light up Carol's art pieces, to add even more charm to the extensive mix of plants, and provide an element of safety to walkways and paths.

Carol mentioned that garden lighting needs evolve as plants grow and change shapes. Chuck mentioned that he found it a challenge to provide proper lighting for highly textured garden plants and sculptures and that a combination of up-lighting and back-lighting was often most effective.

[Best_Wordpress_Gallery id="47″ gal_title="Garden Club June 10 2017″]

UC Garden Club president Ginger Steketee thanked the hosts for sharing their special space. She is pleased to announce that UC Garden Club will spondor a plant sale at the 4th of July Celebration in Standley Park. Ginger also mentioned that the Garden Club is asking for volunteers to host 2017 meet ups. Please contact her at 858-836-1441 or ucgardenclub@gmail.com
Editor's note: As you glance through the slide show of photos, try to spot the whimsical portraits of Rolf, Carol and special pet Pandy, all created by Carol. Can you find them? They are one of the highlights of the walkway from the front yard to the back.
For related posts, visit https://www.universitycitynews.org/category/beautification/
For information of the UC 4th of July Celebration, visit http://uccelebration.com/