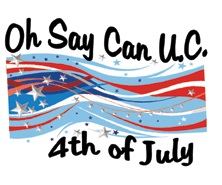 Life is all about choices, right? Here is a no-brainer choice as we celebrate America's 239th birthday on Saturday, July 4.
Do you want to celebrate the birth of our country in a traffic jam on I-5 going to a certain fair? Never. Do you want to celebrate the big day not finding a parking place at the beach? Of course not. Do you want to spend a bundle on fees to enter overcrowded theme parks? Never! You want to stay home for the holiday and celebrate the Fourth of July at Standley Park for the 27th annual University City Celebration.
Read more: San Diego Community News Group, http://www.sdnews.com/view/full_story/26726513/article-University-City-celebration-is-the-right-choice?
Learn more: https://www.universitycitynews.org/uc-4th-of-july/
---
What do Facebook, Twitter, Nextdoor, ImproveUC and UCCA have in common? They are all ways neighbors can connect with neighbors and the University City community.
Create a post, start a conversation, share the news, organize an event, keep in touch. Take a look: