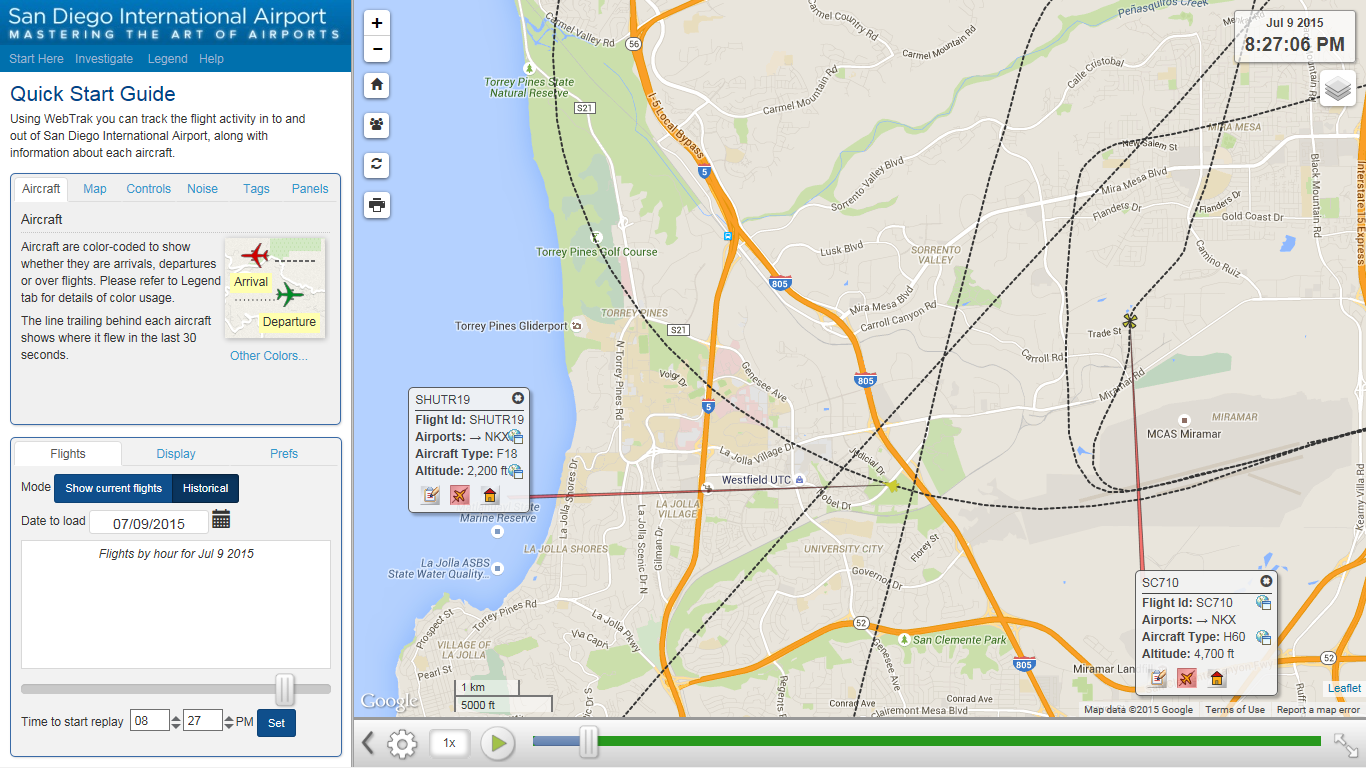 Those who call or email the Operations Duty Officer (ODO) to file a noise complaint at MCAS Miramar are requested to provide date, time, location, and type of aircraft. This is not always easy to do. Now, University City residents have a new tool, WebTrak, to facilitate noise complaints to Miramar and other area airports.
With this website, users can go back up to three months to view flights in and out of area airports, including Miramar, and capture date, time, flight ID, type of aircraft, distance from a specific location, flight path and altitude for most flights; and save an image of the aircraft flight path by using their machine's print screen function.
The screen print attached to this post is from July 9, at 8.27 PM, shows both an F18 and a helicopter and their flight paths.
For MCAS Miramar planned procedure changes, contact information and to view a slide show of recent screen prints using the WebTrak website visit, https://www.universitycitynews.org/mcas-miramar-operations-information-and-contacts/.
For Miramar Airfield issues or inquiries, call the Airfield Operations Duty Officer (ODO) at 858-307-4277 or email miramarmcas.odo@usmc.mil.
For noise complaints at Miramar, call the numbers above for the ODO or email your noise complaints with name, street address and details of complaint to include time, date, and type of aircraft if known to the ODO at miramarmcas.odo@usmc.mil
For noise complaints at other area airports, including Montgomery Field, visit http://www.sandiego.gov/airports/noise/.
---
*Please note: WebTrak SAN has updated website at https://webtrak.emsbk.com/san