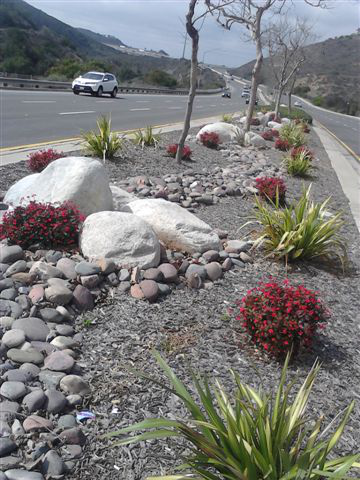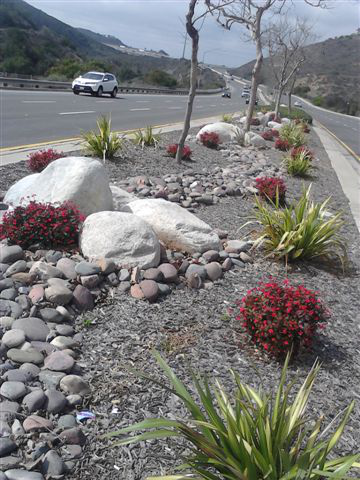 The Beautification Committee of University City Community Association (UCCA) is proud to announce that we will be re-landscaping the Governor Drive medians at Radcliffe and Stresemann. The cracked asphalt and inner curbs have been removed by the City thanks to the generous support and help from Sheri Carr from Sherri Lightner's Office. All trees will remain. The larger pine trees will be trimmed in December.
The plan consists of drought- resistant plants, boulder clusters with plants and dry riverbed pebbles with mulch outer edges similar to the Poway/ Pomerado Road medians just east of Highway 15 (pictured). The UCCA is reviewing bids from several contractors and will be making a decision by early July and hopefully completing the project within two months. UCCA is also preparing to set up a maintenance contract for the two newly planted Governor Drive medians and also the non-irrigated hard surface medians on Genesee from Governor Dr. to Highway 52 and the Regents Road medians north and south of Governor.
Kudos to all those people who have become UCCA members in helping us to provide the funds for this project. We couldn't have done it without your support.
Note: Adapted from article by Merle Langston (Berman), Chair UCCA's Beautification Committee and Barbara Gellman, Co-Chair UCCA's Beautification Committee, originally printed in the July/August UCCA newsletter.
---
What do Facebook, Twitter, Nextdoor, ImproveUC and UCCA have in common? They are all ways neighbors can connect with neighbors and the University City community.
Create a post, start a conversation, share the news, organize an event, keep in touch, take a look: