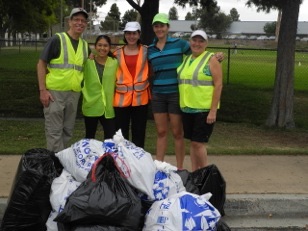 People for a Clean University City conducted its monthly neighborhood cleanup on Sunday, July 12. Barbara Bry, a candidate for the San Diego City Council in District 1, joined us and brought some friends. Barbara told the group that helping to beautify and maintain the neighborhoods in her district is one of her priorities. Thanks, Barbara!
---
We had 15 volunteers who collected 17 bags of trash, weighing 135 pounds.
Our next neighborhood cleanup is Sunday, August 9 from 7:15-8:45 a.m. We meet at Starbucks, 3202 Governor Dr. at Regents Rd., University City. We meet every 2nd Sunday throughout the year.
Contributed by Vince Reardon, vincereardon@yahoo.com.
---
What do Facebook, Twitter, Nextdoor, ImproveUC and UCCA have in common? They are all ways neighbors can connect with neighbors and the University City community. Create a post, start a conversation, share the news, organize an event, keep in touch, take a look: