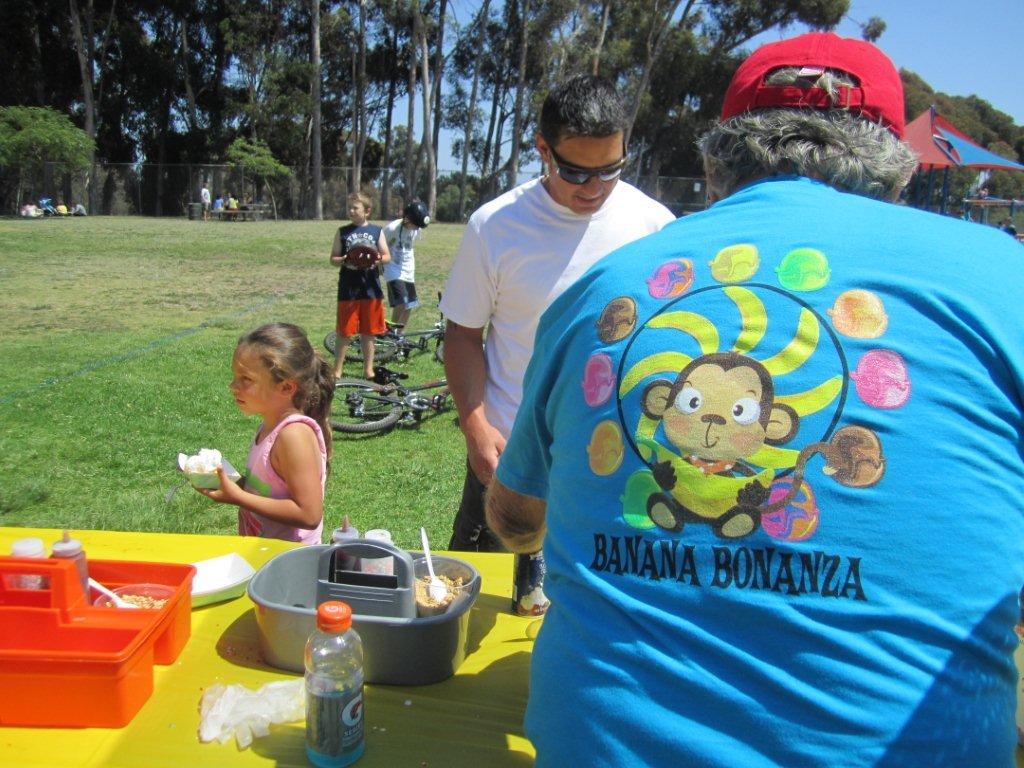 Banana Split Day Returns to University City, Saturday, August 1, 2 PM at Standley Park.
Jorgen Heimburger says he and he wife Margit decided to start sponsoring the now annual Banana Split Day because it was a "good thing to do." It was 34 years ago when Heimburger remembers hearing that Steve Lyons, then Standley Park Recreation Director, went to an event where there was a 200 foot banana split. When Lyons brought it up to the Recreation Council (Heimburger was the Chairman), Heimburger says he thought "heck, we can do that, I'm in the business." At the time, he ran a family dairy, which his son Karsten continues to run today.
So in 1981, the Banana Split Day tradition was started with the Heimburger family supplying the ice cream and the participants bring bananas. The Heimburgers were transplants from Denmark and have lived in UC since 1972, raising their children here who went to our local UC schools. Although UC lost a dedicated community member when Margit passed away a couple years ago, Jorgen remains committed to providing the ice cream for Banana Split Day, and feels it is "something to give back to the community, because any day is a good day with free ice cream." Steve Lyons also continues to be active member of the UC community and his State Farm Insurance office is located in the Vons shopping center.
The banana split has varied in size from year-to-year, from 200 to 400 feet, and from 300 to 1,000 in attendance for the larger milestone years. And as usual, the event would not continue to be so successful without so many volunteers. Besides the Heimburger's donating the ice cream, there are between 30 to 60 volunteers and past and present employees of Standley Park who come out to help with the annual tasty event.
Banana Split Day continues to be a great UC summer tradition. So bring family and friends, grab a banana, head on over to Standley Park on Saturday, August 1 around 2 PM, and load up with ice cream, toppings, whipped cream and a cherry on top! Simple pleasures are so delicious in UC. And don't forget to say thank you to the Heimburger Family for making UC such a great place to live.
Adapted from article by Jemma Samala, originally printed in the July/August UCCA newsletter.
---
What do Facebook, Twitter, Nextdoor, ImproveUC and UCCA have in common? They are all ways neighbors can connect with neighbors and the University City community.
Create a post, start a conversation, share the news, organize an event, keep in touch, take a look: