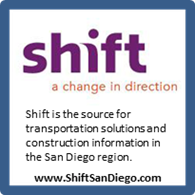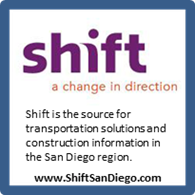 Courtesy of ShiftSanDiego.com, the notices and alerts posted below reflect construction taking place in the Golden Triangle/University City area.
I-5/Genesee Avenue Interchange Project
I-805 North Express Lanes Project (Stage 1)
For other regional transportation projects, please visit www.KeepSanDiegoMoving.com and http://www.shiftsandiego.com/improvements/noticesandalerts. You can also use #ShiftSanDiego on Facebook and Twitter for travel information on the go. Monitor #ShiftSanDiego for important information, updates, alternative travel options, and more. Use #ShiftSanDiego on your own posts to help others get around easier.
---
What do Facebook, Twitter, Nextdoor, ImproveUC and UCCA have in common? They are all ways neighbors can connect with neighbors and the University City community. Create a post, start a conversation, share the news, organize an event, keep in touch, take a look: