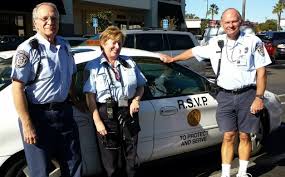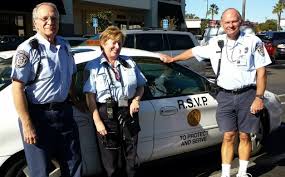 The San Diego Police Department's Retired Senior Volunteer Patrol (RSVP), Northern Division, is seeking additional volunteers to serve the communities of University City, UTC, Clairemont and La Jolla.
RSVP duties include patrolling local neighborhoods, while serving as additional eyes and ears for the police department. RSVP assists uniformed officers by directing traffic, making deliveries to various courts, searching for stolen vehicles using computer driven license plate readers, and ticketing vehicles parked illegally and/or displaying out-of-date registrations.
The volunteers also visit elderly residents living alone to check on their safety and welfare, and check homes for residents on vacation. Volunteers are from all walks of life, must be at least 50 years of age and possess a valid California driver's License.
RSVP offers flexible schedules, a minimum of three days per month service, and time out for vacations. Here is your opportunity to be part of a talented team of San Diegans serving their communities. Contact SDPD's Northern Division RSVP at 858-552-1737 or E-mail to sdpdNorthern@pd.sandiego.gov.
** RSVP Volunteers will visit Food Truck Family Night, along with SDPD and SDFD officers, on Wednesday, August 5, from 5:30-6:30 PM at Spreckels School at Governor and Stadium, University City. 
---
What do Facebook, Twitter, Nextdoor, ImproveUC and UCCA have in common? They are all ways neighbors can connect with neighbors and the University City community. Create a post, start a conversation, share the news, organize an event, keep in touch, take a look: